"The Scoop!" is the first episode of the fifth season of Teen Titans Go! and the two-hundred-tenth overall episode of the series.
Summary
The Titans find it odd when Starfire becomes friends with an Ice Cream Scoop.
Plot
A new day begins with Starfire in the kitchen, passionately befriending a waffle maker and even making a bad joke with it. But her moment with it is halted just as she is pouring the batter into it when Beast Boy questions her fondness towards objects. She explains that she pursues relationships with things she finds interesting, but Robin disagrees. She is still not deterred though and considers making friends with inanimate objects as her freedom, as well as briefly furiously reiterating her fierce loyalty. Nevertheless, Raven disrespects Starfire's choice and forces the latter to quit the weird habit. She forcefully sends the waffle maker into the trash can, much to Starfire's horror. Robin tries to comfort her by stating that he and the three others are way better than a waffle maker and announces their mission to beat up the H.I.V.E., though unlike her friends Starfire is unenthusiastic and instead weeps over her waffle maker as she enters Raven's portal.
The five Titans then reach the place where the H.I.V.E. Tower is located and through peeking through the window glass, they are flabbergasted to realize their enemies are having an ice cream social rather than participating in criminal activities. But rather than focusing on the enemies as her friends do, Starfire is fascinated by something else... an ice cream scoop Gizmo is using. The longer she gazes at it, the stronger the attachment she has. Finally, she can't constrain her temper anymore and barges into the H.I.V.E Tower, proceeds to attack them brutally before Robin gives his order. After the innocent villains get violently tossed out by her, Starfire's friends are glad that she has helped them out until they notice something...
She is pretending to be talking with the scoop!
Of course, Starfire feels uneasy for her friends to find out about her object obsession, but she's always been a bad liar for trying to conceal it, especially when she refuses to allow Robin to bag it. Not wanting to be cornered, she flies away in a flash after letting out a shrilling screech of "Thank you very much!" much to her friends' puzzlement.
Flying away from her unsupportive friends, Starfire tells the scoop about her troubled feelings, and she makes it reply that the four others are merely goons, so it's better for the two of them to solely have some private fun. Pleased with the made-up answer she gave to herself, Starfire proceeds to have numerous types of entertainment with the scoop: scooping clouds, photoing inside a photo booth in a silly manner, riding on a swan boat, dancing, and simply relaxing on the meadows. That night, she even sleeps with it by her side after she makes it proclaim her as its best friend.
But her happiness doesn't last long, because when she wakes up the next morning...the scoop has vanished!
Blinded by rage, Starfire quickly assumes that her friends are the culprit of her scoop's disappearance. By the time when Cyborg asks for the theme song of Charles In Charge and wonders why Raven and the other boys (who have their heads bagged by Starfire) aren't answering him properly, he is then abducted by Starfire. The four of them are soon being interrogated by her, and no matter how they are being honest, she won't listen, even using her waffle maker (which she has managed to retrieve from the bin) to threaten them. Poor Robin even gets slapped by her waffles. It is Cyborg who snaps her back to her senses by reminding her to watch the security tapes, and it turns out... Gizmo is the thief who has stolen the scoop in her slumber! Furious, she leaves her friends behind just for the scoop by storming out from the basement.
Nevertheless, after barging into the H.I.V.E. Tower, it takes Starfire a while to realize that...a Gizmo doll is waiting for her, and not long afterward the entire H.I.V.E hold her hostage with metal shackles on her arms and legs, even calling her stupid.
On the other hand, Starfire's friends are displeased with how she has chosen the scoop over them. But after admiring the couch, the television, a book, and a mirror, the four realize that they all have objects they are attached, and understand Starfire's similar attachment now.
As for Starfire, she is still being held captive by the H.I.V.E., who scold her for trespassing into their property and interrupting their ice cream social. Yet just as Jinx taunts Starfire, the unexpected happens...the scoop comes to life! One by one, the now animated scoop takes out the H.I.V.E with its swift attacks, flexibility, and a reflective metal surface. After it breaks Starfire free from the shackles, it is reunited with her at last.
Well, looks like the four other Titans have arrived late even they trespass by crashing through the ceiling of the H.I.V.E Tower. Poor Gizmo has to beg them to stop trespassing into their house again. Anyway, Starfire's love for the scoop is supported by her four friends who have their object obsession instinct awaken, and to celebrate, they gather their favorite things... together!
Characters
Song
Trivia
This is the premiere of Season 5.
On Boing! Spain, this episode was listed on Boing!.com[1] as a Season 4 episode due to the incorrect listing order of Boing! Spain.

Although during on its premiere, it was listed as a Season 5 episode.

As of 2020, this error can no longer be seen on the website, as Boing!.com has been closed for repairs.

For this episode and onward, the art style has been reworked. The show's color scheme got darker and the The Teen Titans now have updated designs. Among the changes, Beast Boy's eyes became bigger, Starfire's eyebrows are raised up, Raven has her skin darkened and eyes become more round shaped, Cyborg's blue tech part has been darkened, and Robin's hair is now smoother. Also, the backgrounds got more detailed, which is being painted instead of drawn.

The Titans during the dance animation have switched places, Starfire is on the right, Raven is in the mid-right, Cyborg is in the center, Robin is at the mid-left, and Beast Boy is on the left.

This is the first season where the Titans are doing the same dance during the intro sequence rather than each one doing their own dance.
This is also the first episode to show a little sequence with Beast Boy turning into various animals before turning into the DC Comics symbol.

This marks the first episode to have an opening logo.

The ice cream scoop is voiced by Hynden Walch, the voice of Starfire.

When the animation cuts to a live-action scene, however, a man's hand is holding the scoop when it is "speaking" to Starfire. This guy who holds the scoop is one of the crew members.
When the waffle iron is "talking", Starfire uses a Swedish accent to make the iron talk. Also, she uses a New York accent when making the scoop talk.

This is possibly due to the fact that waffles are of Swedish origin, while the latter of which is unknown.

Apart from Starfire, each Titan has an object they are attached to, which reflects their respective personalities.

Robin's love towards his mirror shows his narcissistic side.
Beast Boy's liking towards the couch and Cyborg's fondness towards the TV display their slacker nature.
Raven's preference towards her book portrays her as an introvert who favors solitary.

According to the security tapes, it is likely that Starfire took the scoop from the H.I.V.E on a Tuesday.

This means that the episode itself takes place between a Tuesday and a Wednesday.

Dave Stone appeared as a cameo when Starfire and the scoop were riding on a swan boat.
Continuity
An ice cream scoop is not the only inanimate object Starfire grew an attachment to. She fell in love with a scratching post in "Matched" and nearly married a pot of chili in "Nean".
Starfire isn't the only Titan who has formed a relationship with an inanimate object. In "Staff Meeting", Robin talks to his bo staff and "listens" to it as well, referring to it as his best friend and in "Matched", Beast Boy developed "feelings" for a scratching post that he and Starfire fought over.
Cyborg's love for television is mentioned again. The first time is in "Oil Drums".
Robin's unattractiveness is once again being depicted.
References
Starfire's conversation with Gizmo over her communicator is a direct parody of the conversation that Liam Neeson's character in Taken had with the kidnappers.
The waste basket in the kitchen is covered with stickers of symbols for characters such as Blue Beetle, Batman, Brainiac, and Batman Beyond.
"Bag it, tag it" is a quote from the song "Reba" by Phish.
Cyborg mentioned Charles in Charge, a 1984 sitcom, which he asked about its theme song's lyrics.
Errors
The joke that Starfire tells in the opening isn't told correctly. She asks, "What DID the waffle say at the baseball game?" The joke is actually about a waffle maker, not a waffle.
Robin tells Starfire she can't be friends with animate objects but yet Robin seems to be "friends" with his staff as seen in "Staff Meeting".
Running Gags
Starfire bonding with the ice cream scoop.
Starfire being horrifyingly furious.
The Titans breaking into H.I.V.E. Tower.
The H.I.V.E members being brutally injured in a pile.
Transcript
The transcript for "The Scoop!" can be found here.
Gallery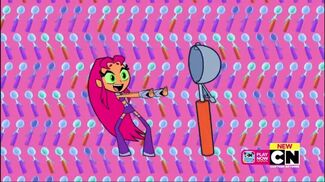 The image gallery for The Scoop! may be viewed here.