"The Scoop!" is the first episode of the fifth season of Teen Titans Go! and the two-hundred-tenth overall episode of the series.
Summary
The Titans find it odd when Starfire becomes friends with an ice cream scoop.
Plot
A new day begins with Starfire in the kitchen, passionately befriending a waffle maker, and even makes a bad joke with it. But her personal moment with it is halted just as she is pouring batter into it when Beast Boy questions her fondness towards objects. She simply explains that she pursues relationships with things she finds interesting, but Robin disagrees. She is still not deterred though and considers making friends with inanimate objects is her freedom, as well as briefly furiously reiterating her fierce loyalty. Nevertheless, Raven disrespects Starfire's choice and to force the latter to quit the weird habit, she forcefully send the waffle maker into the trash can, much to Starfire's horror. Robin tries to comfort her by stating that he and the three others are way better than a waffle maker and announces their mission to beat up the H.I.V.E., though unlike her friends Starfire is unenthusiastic and instead weeps over her waffle maker as she enters Raven's portal.
The five Titans then reach the place where the H.I.V.E. Tower is located, and through peeking through the window glass, they are flabbergasted to realize their enemies are having an ice cream social rather than participating in criminal activities.
Characters
Song
Trivia
This is the premiere of Season 5.
This is the first season where the Titans are doing the same dance during the intro sequence rather than each one doing their own dance.
This is also the first episode to show a little sequence with Beast Boy turning into various animals before turning into the DC Comics symbol.

This marks the first episode to have an opening logo.

The ice cream scoop is voiced by Hynden Walch, the voice of Starfire.
When the animation cuts to a live action scene, a man's hand is holding the scoop when it is "speaking" to Starfire.
Apart from Starfire, each Titan has an object they are attached to, which reflects their respective personalities.

Robin's love towards his mirror shows his narcissistic side.
Beast Boy's liking towards the couch and Cyborg's fondness towards the TV display their slacker nature.
Raven's preference towards her book portrays her as an introvert who favors solitary.

According to the security tapes, it is likely that Starfire took the scoop from the H.I.V.E on a Tuesday.

This means that the episode itself takes place between a Tuesday and a Wednesday.
Continuity
An ice cream scoop is not the only inanimate object Starfire grew an attachment to. She fell in love with a scratching post in "Matched" and nearly married a pot of chili in "Nean".
Starfire isn't the only Titan who has formed a relationship with an inanimate object. In "Staff Meeting", Robin talks to his bo staff and "listens" to it as well, referring to it as his best friend and in "Matched", Beast Boy developed "feelings" for a scratching post that he and Starfire fought over.
Cyborg's love for television is mentioned again. The first time is in "Oil Drums".
Robin's unattractiveness is once again being depicted.
References
Starfire's conversation with Gizmo over her communicator is a direct parody of the conversation that Liam Neeson's character in Taken had with the kidnappers.
The waste basket in the kitchen is covered with stickers of symbols for characters such as Blue Beetle, Batman, Brainiac, and Batman Beyond.
"Bag it, tag it" is a quote from the song "Reba" by Phish.
Cyborg mentioned Charles in Charge, a 1984 sitcom, which he asked about its theme song's lyrics.
Errors
The joke that Starfire tells in the opening isn't told correctly. She asks, "What DID the waffle say at the baseball game?" The joke is actually about a waffle maker, not a waffle.
Robin tells Starfire she can't be friends with animate objects but yet Robin seem to be "friends" with his staff as seen in "Staff Meeting".
Running Gags
Starfire bonding with the ice cream scoop.
Starfire being horrifyingly furious.
The Titans breaking into H.I.V.E. Tower.
The H.I.V.E members being brutally injured in a pile.
Transcript
The transcript for "The Scoop!" can be found here.
Gallery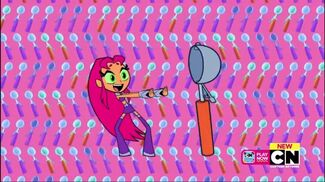 The image gallery for The Scoop! may be viewed here.
Community content is available under
CC-BY-SA
unless otherwise noted.