"The Titans Show" is the forty-fifth episode of the third season of Teen Titans Go!, and the one-hundred-forty-ninth overall episode of the series.
Summary
The Titans try to get off the island but they soon realize everything is not what it appears to be.
Plot
The episode begins with the titans inside their tower made out of parts from the island. Cyborg and Beast Boy play a video game, while Raven wonders how many ponies she can count to, and Starfire also gets bored. The titans realize that they have run out of things to do on the island and are officially bored.
Starfire says that when they arrived on the island, it seemed fun, but now it is boring. The Titans say that they should escape the island and head back home. Robin interrupts the conversation by blowing a seashell and tells them that they have lost their minds about leaving the island and that if they were in a TV show, it would be a week-long event, but Raven says that it isn't. Starfire says that a battle between their greatest villains would have been more fun, but Robin says that isn't what an Island Adventure is all about. Cyborg then says that Robin should stay on the island, while he and the others escape. They grab onto a hang glider made out of leaves and sticks and fly away home, but have disintegrated by a volcano. They later build a raft to escape. Unfortunately, a hole appears on the raft cause to sink into the ocean, and the Titans are attacked by sharks.
Then, they launch themselves on a catapult, but they are eaten by a dinosaur and the dinosaur spits them out. As they crash land on the ground, Robin tells them to remember that the island is inescapable, and they learned about that on their first island adventure. The titans groan, but Robin makes them listen to Island Adventure. The song tells them about what they did on the island. The song then reveals that the island is FAKE and one of the trees is fake. The Titans are then surprised that the island they are on is fake.
Cyborg knocks down the tree and is surprised that it is a cardboard counter display and knew that the song was right. Robin walks to the other trees and says that they're all fake, and asks why they didn't notice it before. Raven says that's because they never walked behind them, and Starfire says that only weirdos do that. Robin then asks: "Is anything real here?" Cyborg grabs a rock and gasps that it's made out of foam. Starfire grabs a banana and also gasps that it has a microphone inside of it. Raven then spots a crab with a camera on it and gasps too. Beast Boy then reveals that the freckle on his butt is shaped like Mickey Mouse. However, Cyborg says that it is a meatball sub, Starfire says that it is a unicorn riding a cloud, and Raven says that's a human skull. Robin interrupts the conversation and says to stop, but then says it is two bears hi-fiving.
The others agree and say that they need to find a way to see if it is all fake. Cyborg then spots a hatch in the sky, and Robin tells them that it could be another Island Adventure. But, the Titans say that it won't be. They reach the hatch, climb out of the hatch door and see a room filled with screens. They wonder who is watching them. The screens are then turned off by Control Freak, who greets them, and Robin knew that the mastermind of TV would behind all of this. Control Freak reveals that he hijacked their yacht, wiped out their memories, and placed them on a fake island inside a big arena. Robin asks why he did that. Control Freak said that he was tired of watching them in their normal surroundings, likes the living room and kitchen. Starfire says that they go on the roof sometimes, and Raven interrupts by saying that they also go to the lawn. Control Freak then says that he wants them to do something exciting for once, like an Island Adventure; then he turns the screens back on to reveal Sticky Joe relaxing on the island. However, Robin says that his show is over, and the Titans want to return to their normal environment.
Control Freak agrees but then says that their audience won't be happy about it. Robin gets confused, and Control Freak then says that the show wasn't just for him and wanted other people to see it. Control Freak then presses a button on his remote, and the screens start to open slowly. The Titans stare at the opening until the doors fully open, only to reveal their greatest villains. Robin is then surprised to see all of their greatest foes watching them. Starfire then is confused why people who despise them put their time and effort into just watching them. Beast Boy then tells her that if she has ever been on the internet and gives her a tablet, revealing what people say to them, hurting their feelings.
Control Freak then tells them that only most of the viewers that watch their show are haters. He then says that they could stop the show, but the audience won't let them do that. He presses a button to heckle the audience. The audience yells at them because they don't want the show to end. Beast Boy is surprised by their yelling, Cyborg then says that a battle with them was going to get good, and Raven then says that it is better than an Island Adventure, but Robin groans and agrees with the titans to fight their foes. Robin then yells GO! and the titans set out to fight their foes. Billy Numerous attacks Robin, which Robin fights back using his staff.
Cyborg fights The Brain and the Brain Soldiers, using his cannons, and aims at the targets, which causes The Brain to explode. Flex and Muscle attack Robin, but Robin notices and throws two birdarangs at them, but the latter use their telekinesis to fire back on Robin, and Robin is then set on flames. Beast Boy sees him bouching, but Mallah attacks Beast Boy, which Beast Boy turns into a Gorilla to fight Mallah and throws him at the Giant Robotic Alien. Starfire uses her Eyebeams to fire in many directions until she notices a set of Blackbolt Eye-Beams firing in the background. She turns around only to reveal her sister Blackfire firing at her. Blackfire then uses Lilac Fire Generation, which she uses to aim at Starfire, and Starfire then lands on the ground. Blackfire then joins forces with See-More and Doctor Light, and the latter use Lilac Fire Generation, Light-Beams, and Laser Eye on Starfire, but Starfire uses Eyebeams to attack the latter. It creates a massive ball of light that causes Starfire to aim it more but loses when the latter gives it what it got.
Terra uses her powers to lift platforms for Rose Wilson to attack. The platform goes at full speed, and Rose gets her sword ready to attack Raven, but Raven uses her Magiportation to open a portal and causes Rose to go inside it, and the portal opens near Terra and causes Rose to crash land on her. Raven celebrates her victory, but Trigon taps on her shoulder, and Raven turns around only to see her father flicking his finger and causing her to crash somewhere. Cyborg and Beast Boy see Gizmo's Robot in front of them ready to attack them, but Cyborg turns a Missile, and Beast Boy hops on.
Cyborg then shoots missiles at the robot, which causes its head to explode (only to see that nobody is controlling it). Beast Boy and Cyborg land on top of it and celebrate their victory by Hi-fiving, but Gizmo appears in the background on his Spider-legs and throws the two of them on the right wall. Beast Boy and Cyborg land with the rest of the Titans, recovering from their injuries, only to see that there are too many villains for them to fight. Raven says that there are too many of them, and they need to do something about it. Robin says that there is only one way to fight them and throws a birdarang on a lever, which the screen doors open, only to reveal the Dinosaurs, Alien Skull Collector, The Sports Equipment, and Magic Starfire Cat. The doors fully open, revealing the Island Extras. Robin says that the Island Adventures really did help them and then commands the titans and Island Extras to attack the villains (by shouting "GO!").
Starfire and her Pterodactyl attack Killer Moth, Mumbo Jumbo, Mad Mod, Brother Blood and Mother Mae-Eye, which the five of them run for their lives after Starfire uses Starblasts and the Pterodactyl shots out missiles at them, in which later they explode. Cinderblock attacks Beast Boy and his Tyrannosaurus Rex. Cinderblock punches them, but the Tyrannosaurus Rex attacks using its Robo-fists, which causes Cinderblock to crumble into pieces.
Plasmus attacks Raven and her Triceratops. Raven commands her Triceratops to use Laser Horn, which shoots at Plasmus, and holes appear. Plasmus reseals the holes, but Raven uses a Mega Missile to destroy Plasmus, which eventually she does, causing him to explode. Alien Skull Collector attacks the Robots using his laser gun, in which all of them eventually explode. Billy Numerous is then seen in the background, preparing to fight the Alien Hunter, but the Alien uses Wolverine-like claws to attack Billy. He gets scared and runs to the nearest exit and enters the door, hoping to be safe, but Robin's Velociraptor opens the door and attacks him.
Control Freak sees the battle on his screens, only to reveal Robin attacking Honk with his staff, Starfire using her Eye-Beams on Blackfire, and Beast Boy, as an Elephant, attacking See-More. Control Freak gets all sweaty.
Robin uses the sports equipment to attack Doctor Light. The Volleyball, Basketball, and Pirate Skull attack Doctor Light in the face, with Robin slapping him with a Hockey Stick. Mammoth roars, only to be crushed by Cyborg's Brontosaurus foot. The Millionaire and his wife use their cash bags to wack Muscle and Flex's brains. The Alien Skull Collector appears in a dark valley in the background (with red eyes) and grabs The Brain's head. Magic Starfire Cat goes up against Trigon, Scary Teri, Jinx, and Vegetor and uses Rainbow Manipulation to burn them. The Titans defeat all their enemies and go up against Control Freak, but Control Freak tries to escape on his chair before the Titans attack him. Robin throws his Birdarangs, and Beast Boy turns into an Octopus to throw them at Control Freak, causing his chair to explode. The Titans celebrate, and Raven says that they should fight more because they are superheroes.
Robin then says that his Summer Event is over and he has failed, but Control Freak says that they turned his island idea into something super cool and genre-appropriate and calls it a stunt. Control Freak says that they have received more viewers from his summer event. The doors open in the background and fully open, only to reveal Slade and Batman's (and other Justice League members) enemies. The camera zooms to Slade, who gets surprised when "Island Adventure" is said, and Control Freak says "Freak Out." The episode ends.
Characters
Major Characters
Cameos
Slade (in person debut, cameo)
Bane (debut, cameo)
The Joker (cameo)
Harley Quinn (debut, cameo)
Poison Ivy (debut, cameo)
The Penguin (cameo)
The Riddler (cameo)
Two-Face (debut, cameo)
Mr. Freeze (debut, cameo)
Sinestro (debut, cameo)
Darkseid (cameo)
Gorilla Grodd (debut, cameo)
Solomon Grundy (debut, cameo)
General Zod (debut, cameo)
Starfire's Deathbots
Songs
Trivia
This episode could be a reference to "Titans Together" from the original TV series, both feature every villain that the titans had fought and includes another villain controlling the group. Although there are some differences:

They are under the lead of Control Freak instead of The Brain (The Brain is instead part of the audience).
The Brotherhood of Evil is not involved. (With the exception of The Brain and Mallah)
The villains are seen watching the Titans instead of capturing them.
No other Titans (such as Titans East) help fight the villains. Instead, the Titans are assisted by the "Island Adventures" extras.

This episode is the fifth and final part of the near week-long summer event of "Island Adventures".
The only villains that are seen fighting the titans are Gizmo, Jinx, Mammoth, See-More, Billy Numerous, Terra, Blackfire, The Brain, Mallah, Brain Soldiers, Brother Blood, Cinderblock, Doctor Light, Giant Robotic Alien, Killer Moth, Mother Mae-Eye, Mad Mod, Mumbo Jumbo, Muscle, Flex, Plasmus, Rose Wilson, Trigon, Honk, Vegetor, Scary Teri and Robots, while Cironielian Chrysalis Eater, Death, Kitten, Magic God, Perfect Sandwich, Slime Monster, Punk Rocket, Twin Destroyers of Azarath, Benjamin Franklin and Starfire's Deathbots aren't see fighting them.
A remake of Caravan Palace's "Dragons" was used during the Titans' attempted escape from the island.
Robin breaks the fourth wall by stating that if the Titans were on a TV show, their experiences on a deserted island would be a week long event known as "Island Adventures". Starfire also breaks the fourth wall by predicting the ending of the episode, with fighting the villains.
This episode has the largest amount of villains appearing in the series to date, with over 51 villains appearing.
One of Robin's birdarangs is also a mp3 player. Some previous songs that were sung in the series that he has on his playlist are Pee Pee Dance, The Burrito/Burger Song, Cool School Song, Real Real Boy, Crack That Cookie, Pyramid Mummy Money (titled "Pyramid Scheme" on the list), I Love Pie (titled "Pie Song" on the list), and Scary Figure Dance (titled "Scary Figure" on the list). He also has two songs from future episodes called "Booty Scooty" (Booty Scooty Dance) from the episode "Booty Scooty" and "Ride the Dragon" (We're Going to Ride that Dragon) from the future episode "Riding the Dragon".
The villains' hate comments about The Titans Show represent real life comments from people who despise Teen Titans Go!.
Slade makes his first "in person" appearance in the series. He appears at the very end of the episode.

Other recognizable DC villains made an appearance the same time that Slade did. Some included are Harley Quinn, Poison Ivy, The Joker, The Penguin, etc.
As of this episode, every one of the Titans' arch-nemesis from the original series has make a physical appearance in Teen Titans Go!

It seems Raven's new bond with Terra and her re-claimed friendship with Rose in "Operation Dude Rescue" are no longer in check according to this episode, as Raven battled both Rose and Terra all at once, during the final battle.
Kyd Wykkyd was the only villain from the original series who had appeared in Teen Titans Go! at this point, but not appear in this episode.

To add to this, Klatak didn't appear, despite being a villain.

Music from "History Lesson" is heard when the Island Adventures extras battle the villains.
Darkseid gets a redesign in this episode. The Riddler and The Joker also had a design different from how they appeared in Real Boy Adventures.
The crab holding a camera is the exact same crab that appeared on the rock in Season 2.
Continuity
This is the second episode where Control Freak complains about the Titans and the show. The first time was in "The Fourth Wall".
Raven is seen unhooded for the 44th time in this series.
This episode foreshadows 2 future episodes, as Robin's birdarang mp3 player had 2 song's called "Booty Scooty" and "Ride The Dragon" from Booty Scooty and Riding the Dragon, respectively.
References
The freckle on Beast Boy's bottom apparently looks like Mickey Mouse, according to Beast Boy.

Also, whilst the other Titans argue over what his freckle looks like, Robin concludes that, "Obviously, it's two bears high-fiving." This is a reference to a joke revolving around Fallout: New Vegas, in which many players thought a picture in an ink-blot test was a pair of bears high-fiving, despite not being a choice listed in-game.

This episode's title and plot are obvious references to the 1998 movie The Truman Show; starring Jim Carey. This is evidenced by the Titans being recorded with cameras on an island inside a giant dome without their knowledge and watched by many people.
There is a site named "DCUmblr" seen in the episode. It is an obvious parody of Tumblr.
Cyborg and Beast Boy play a coconut version of the classic arcade game Pong.
Errors
There are a few continuity errors in regards to some villains who appear in this episode.
Running Gags
Robin repeatedly saying "Island Adventure".
Chorus singing "Island Adventure" a few times.
Transcript
The transcript for "The Titans Show" can be found here.
Gallery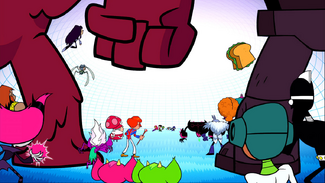 The image gallery for The Titans Show may be viewed here.