"The Viewers Decide" is the forty-sixth episode of the fifth season of Teen Titans Go!, and the two-hundred-fifty-fifth overall episode of the series.
Synopsis
It's the Teen Titans vs Titans East as the two teams compete for who gets Bumblebee!
Plot
It's afternoon in the Tower and the Titans are all sitting in the living room, excitedly watching some nature documentary about bears. Suddenly, Bumblebee appears, telling the others that she has something important to tell them. It's time for her to go. The Titans all start freaking out, but it turns out that they (as usual) weren't paying any attention to poor Bumblebee and were in fact going nuts over how cute the bears on TV are. They all abruptly rush right up to the TV and start arguing about who gets to name the bear, shoving Bumblebee to the side in the process quite brutally. Bumblebee watches all this dejectedly and says that she's leaving, she begins flying towards the elevator letting out one good tear over the Titans when suddenly Robin cries out don't go! Bumblebee is touched by this, saying that she didn't realize they all cared about her this much, but it turns out he was talking to the pixelized bear on TV. Bumblebee let's out a sigh and steps into the elevator leaving for good, although of course, the others fail to notice this.    
It's now the next morning, and the Titans are all casually eating breakfast until Raven finally notices that Bumblebee is absent. She tells the others, and they all start complaining about how she left without telling them... naturally... However, just when they're walking into the living room, the elevator chimes and in steps Bumblebee! She forgot her bag. The Titans all ask her if she really is leaving, Cyborg asks if it's because they're garbage, then proceeds to say that they know that already. Amazingly Bumblebee says that they're not the reason for her leaving and that she has always wanted to try out being a solo superhero, like Batman! She says that it's been a dream of hers for a long time. Raven is surprised by this, asking her if she's not going back to Titans East but it seems that little Bumblebee forgot to mention that she even left them in the first place. Starfire says that it's just like Bumblebee to leave without saying "goodbye" Raven is agreeing with her when all of a sudden, a giant killer whale starts flying out of nowhere and crashes through the tower glass. It opens its mouth and all of Titans East hop out. 
Classic animal cruelty featuring Aqualad. They all start saying that they were looking for her everywhere and that everything has been awful since she left. Bumblebee is surprised by this and Aqualad continues listing all the horrible things that were taking place while she was away: High rent, more chores, and tougher battles. It turns out that on both teams, Bumblebee was the one who did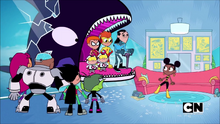 most of the work. Robin smugly tells Titans East to get over it and that Bumblebee is theirs, but Titans East aren't going to let Bumblebee go that easy and they all proceed to argue about who owns her. Bumblebee yells that this isn't up to them and Raven surprisingly agrees with her at first, but she's talking to the viewers! Bumblebee asks who she's talking about, and Cyborg answers her saying that it's the people who are watching the show. Aqualad states that this is nonsense, but Beast boy gets Cyborg to explain how in the old days the viewers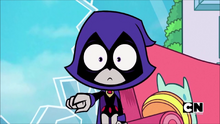 decided a character's fate by calling in and voting. So Beast boy proceeds to do just that, suddenly a number appears at the bottom of the screen and he starts urging people to call it. Aqualad thanks Beast boy for showing Bumblebee just how wacked in the head he is and says that Bumblebee is leaving with them now. Bumblebee pushes Aqualad off her and yells that it's not their decision. Robin rushes up to Bumblebee and asks for a chance to convince her to stay, Bumblebee grudgingly agrees to this but tells them to be professional about it. She asks for their best business proposals. Titans West start off giving a bunch of snazzy visuals and enticing offers like peeing in front of a giant bodyguard! He covers his face though so it's ok apparently.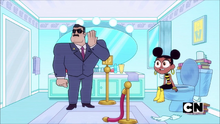 Next its Titans East's turn to wow Bumblebee with their own business proposals but it turns out that they were crossing their fingers behind their backs the entire time. How low! They all begin to argue about who deserves Bumblebee, but she's had enough. She yells at them to shut up, then proceeds to say that she wasn't convinced by either proposal. So Robin says that it's up to the viewers! He tells them to call a number that appears on screen and vote. Kid flash yells at him to stop and that there is no number. Speedy finally speaks and asks Bumblebee what they need to do to convince her. She answers that they can try dazzling her.  
Just like that, a game show set up appears out of nowhere, with Cyborg as the host. Both Titan teams start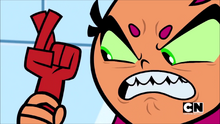 offering Bumblebee all sorts of things in an effort to get her to stay, ranging from a new car, (yeah it's an old hatch-back sedan with fake leather seats don't get your hopes up) to being team leader! Robin is outraged by this and starts whining they he's the leader but is shoved away by Cyborg. But Titans East aren't done yet, they offer Bumblebee a vacation to some fancy island but Cyborg takes it up a notch an offers Bumblebee a whole wing of Titans tower! Including Robin's room and all of his personal belongings. Robin starts pulling on his hair from the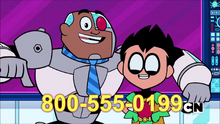 stress of this and starts yelling that they can't do that to him, but of course, he receives a giant punch from Raven for trying to ruin the deal. So sad. Bumblebee doesn't know who to choose, saying that both teams offer such good deals, so Beast boy decides to make the decision a little easier for Bumblebee by turning into an elephant and destroying the car Titans East were going to give Bumblebee. They're all enraged by this and the two teams begin tearing apart each other's stuff. Bumblebee tells them that she's going to go be Batman now, but Robin says that there's one last way to decide her fate: The Viewers. He addresses the viewers telling them to call a number that appears at the bottom of the screen and text the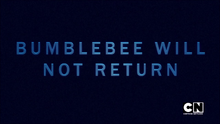 codes for either Titans East or Titans West. Of course, being the jerk that he is he makes the code impossibly long for Titans East and only one digit for Titans West. Not biased at all! This results in literally no one calling in for Titans East and Titans West winning. They all start celebrating by rubbing it into Titans East's faces and dancing around. But it appears that Bumblebee has long left and is with Commissioner Gordon having a fun time being "Batbee". The episode ends with an inscription saying that Bumblebee will not return.   
Characters
Main Characters
Minor Characters
Cameos
Trivia
This episode premiered on Aaron Horvath's birthday.
This is the first episode to focus on the Titans East collectively rather than focusing on an individual member.
This is the first time the Titans are addressed as Titans West.
This is the last episode of Season 5 to be produced, but not the last one in airing order. This is reflected on Hulu, as it is the last episode listed for the season.
800-555-0199 is not a real number; a number with "555" in it is a fictitious telephone number used for television shows and movies. This is to prevent real people from being called, as many people would actually try calling the phone number provided.
This episode marks the end of the "Bumblebee arc".
In this episode, Kid Flash is confirmed to be a part of the Titans East. However, this contradicts previous episodes featuring the Titans East, as he was not seen with them at all during those instances, as well as the fact that in previous episodes, he was stated to be a solo hero. It may be possible that Kid Flash joined the team at some point during Bumblebee's time with the Titans, most likely as a replacement.
Throughout the episode, a mysterious creature stalks the Sea Snail, and it is later confirmed to be a sea turtle that replaced it in the season six premiere "Butt Atoms".
Although Jump City's appearance changed to resemble how it appeared in the movie in "Girls Night In" and "The Great Disaster", the flashback of Bumblebee "fighting" Plasmus shows it in its usual pre-movie design.
This episode broke the fourth wall with the Titans hosting a "viewers decide" program on whether Bumblebee should stay or leave.

Raven also broke the fourth wall by pointing at the screen.

This is the first episode portraying Kid Flash as an antagonist to not have Robin hit him in the leg at any point in the episode.
Continuity
References
Several references to Batman: The Animated Series are made, especially near the end of the episode.
Running Gags
Titans East and Titans West trying to get Bumblebee to stay.
Bumblebee wanting to be Batman.
The Titans breaking the fourth wall and telling the viewers to call a number on the bottom of the screen to vote on whether Bumblebee should join Titans East or Titans West.
Transcript
The transcript for "The Viewers Decide" can be found here.
Gallery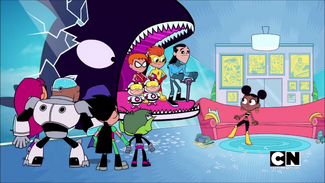 The image gallery for The Viewers Decide may be viewed here.