Mamaragan, better known simply as the Wizard, is an ancient sorcerer who watches over the mystical Rock of Eternity. He's also the supernatural source of Billy Batson's transformation powers.
In Teen Titans Go!, he made his debut in the Season 5 episode "Little Elvis".
History
Before meeting up the Teen Titans, Mamaragan the Wizard was a respected member of the Rock of Eternity judiciary. He passed down punishment on those deserving of it, but, unfortunately, the council was slaughtered by Black Adam (all except for Mamaragan).[1]
Countless years later, the Wizard was still watching over the Rock of Eternity. Unfortunately for Mamaragan though, there was this prophesy long ago that he'd be crushed a "Rock of Eternity" hanging from the ceiling. So, he found himself an heir to pass his power of super-transformation onto: Billy Batson, a kid who wasn't perfect... but good enough.
In the episode "Little Elvis" though, the whole crushing prophesy was subverted when the Titans just scooted the Wizard's chair away from the giant rock. For some reason, he was a little upset about not getting crushed.
Under construction. Will be finished later.
Physical Appearance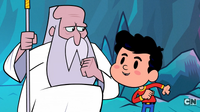 Preferring to keep a modest, low-profile appearance, Shazam the Wizard wears a basic white robe that stretches down to his feet. Nearing his destiny with death, his long beard and mustache have gone gray and white, respectively, and wrinkles line his tired forehead. Bags sag underneath his eyes, and most of the hair on the Wizard's head is gone. Still, he keeps the power levels up by carrying a Magic Staff, complete with a white shaft and a glowing golden thunderbolt head.
Powers and Abilities
Deity Physiological Abilities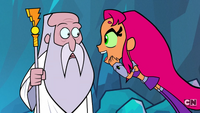 Magic: According to Billy, "his magic is real, gang." Here are a couple of his known godlike powers:

Lightning: Shazam's logo is a lightning bolt for a reason. He can summon electricity at will.
Transformation: At one point, the Wizard was able to transform into a super-strong, flight capable being.
Power Bestowal: However, he passed this power on to his heir, Captain Marvel (Shazam).
Weapons and Equipment
Magic Staff: Capable of holding up an old man's weight, lighting up the dark, incinerating insects, and other magical powers.
Episode Appearances
Trivia
Gallery
References
Community content is available under
CC-BY-SA
unless otherwise noted.