The Wonder Twins
Leadership
Supervisor:
N/A
Leader:
N/A
Distributional Information
Members:
Jayna
Zan
Gender(s):
Male and Female
Age:
Teenagers
Species:
Exxorians
Headquarters:
Unknown
Location:
Jump City
Affiliates:
Teen Titans
Behind the Scenes
First Appearance:
You're Fired!
The Wonder Twins are superhero partners, which consists of Jayna and Zan, who use their powers to transform into animals and forms of water matter, respectively. The duo made their first appearance in "You're Fired!".
Bio
Zan and Jayna originate from the 1970s Hanna-Barbera cartoon Super Friends, which also featured a cadre of DC heroes and villains such as Batman, Superman, Wonder Woman, etc. Jayna has the power to turn into any animal with the same color, while Zan only turns into gas, solid, and liquid. They subsequently appeared in comics based on the animated series, and were later introduced into the main DC Comics Universe.
Episode Appearances
Film
Gallery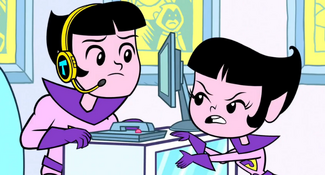 The image gallery for The Wonder Twins may be viewed here.