"Think About Your Future" is the thirty-ninth episode of the third season of Teen Titans Go!, and the one-hundred-forty-third overall episode of the series.
Summary
The Titans become reckless with their money and health, much to the detriment of their future selves. Therefore, the elderly Titans decide to travel back to the past to change the habits of their young selves.
Plot
The episode starts off with Starfire, Cyborg, Raven, and Beast Boy doing their own individual thing on the couch, when Robin pops up from the floor and tells the four that he has exciting news. Robin tells them that he wants the Teen Titans to have team jackets. Starfire, Cyborg and Beast Boy agrees with him, however Robin adds that the team jackets have to match each other's jackets. Raven, on the contrary, says that they can't just pick a decision like that, but the other Titans disagree with her and she eventually goes with their decision. Denim and leather sleeves with the Teen Titans logo on the back and the jacket wearer's name was going to appear on the jackets.
After the jackets got sent to the Titans, the five started wearing them, and they start to show much affection towards it. After showing the poses they could do with the new team jackets, Cyborg suddenly blurts out that they all should have pizza. Starfire, Robin, and Beast Boy agree, however Raven again says that they should all eat healthy. Beast Boy then asks her why they should all eat healthy, and she says that they all wouldn't have health problems...later. Starfire then comes up to her and basically tells Raven that it is the 'now' that is important, not the 'later'. Raven agrees and they all eat a lot of pizza on the couch.
Another idea then comes up to Robin, saying that they should all get team jacket pizza tattoos, with Beast Boy saying that he would get a dragon tattoo. The four-Cyborg, Beast Boy, Robin, and Starfire head towards the elevator, with Raven staying out. She says again that the Titans are making bad choices now, and that they wouldn't have problems...later. Beast Boy then says that no one will care for the later, and Robin says that Raven should think about what tattoo she's going to pick. Succumbed to peer pressure, Raven eventually follows the five.
Then fast forward to 70 years into the future where the pelican is possibly deceased, inside the tower we see a elderly raven coming out of the kitchen with a large sandwich. She trips over herself and says that she can't stand upright, only to say that she is joking since she can fly and uses her telekinesis to re-conjure the fallen sandwich. She then pretends she can't see the beef in the sandwich, which she reconfirms that she's once again kidding because she has glasses. Elderly Starfire chuckles on how elderly Raven's jokes never get old. In the meantime, old Robin is glad that one of them is in good spirits though old Cyborg misinterprets the leader's message and thinks that he's seeing the spirit of Carol (probably his dead wife) until he realizes it's his friend, old Beast Boy (who refer him as a knucklehead), calling for his help after falling off a scooter. Old Cyborg extends his arm to pick old Beast Boy up and slightly scolds the latter, and the latter replies with that his legs don't work so good anymore and shows the former his filthy feet that has flies surrounding it, disgusting the former who puts him back into his scooter. After old Cyborg reminds old Beast Boy again, the latter tries to show off but falls off again. Elderly Starfire remembers that it's time for medications, yet when she's about to fly, old Robin pulls her down and tells her that they've run out of money. As old Cyborg and old Beast Boy mourns over than squandering during their youth, the other elderly Titans also atttempt to remember the good times during their teenage but they still feel regretful over their past decisions. Elderly Raven reprimands her friends of neglecting the consideration of "later" though it takes her awhile to explain the definition of "later". Then old Cyborg suggests going back in time, which old Robin delightfully agrees by squeezing the former's loose cheeks, however he quarrels with old Beast Boy who thinks the time is three o' clock. He announces "Titans, Go!" but it isn't easy for them to get out of the living room thanks to their old age.
On the other hand, while Beast Boy is possibly hiding behind the couch, Robin, Cyborg and the girls are helping themselves with boxes of pizzas, waffles and other junk food. Cyborg is having his pizzas, Robin handing a bottle of mustard to Starfire and Raven lounging on the couch using her telekinesis to hold a packet of snacks so as to feed herself. All of a sudden, the elderly Titans arrive via their time machine, catching the young Titans' attention. The door soon opens, with the elderly (who now has white nosetrials, bald head, wheelchair, wrinkly hands and face) exit, astounding the five teenagers. Taking off his hands from his face, Cyborg and Starfire are shocked to see their old counterparts, though Raven expresses her gratification on meeting the elderly version of herself and kisses her counterpart's cheek.
Robin then realizes that the elderly must have time-traveled and guesses that the future must be in danger, but his elderly self specifies that their reason is to save themselves from... THEM! Cyborg believes that it's cool, however old Cyborg rebukes his young self by blaming the latter's poor eating habits has caused them poor health, hitting open young Cyborg's chest, showing the undigested hotdog and chicken leg. Elderly Starfire then tells them that the squandering of their money has resulted them unable to pay for their medication, revealing an empty dusted container with a spider inside. Old Beast Boy mourns that he can't even get off his scooter. As Elderly Raven prompts the teens to make a better future for them, Beast Boy still doesn't care, which angers old Robin who declares that he and the other elderly will teach them how to make wise decisions.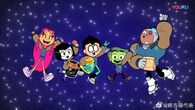 Elderly Raven proclaims that if the present Titans made bad decisions now, then the Elderly Titans won't be here later, even though she says that living like they said is boring. Robin realizes this and orders the Titans to do dangerous and unhealthy hobbies. They successfully make their future selves disappear (some are affected by the decisions the present-day Titans do). Robin congratulates the Titans and enjoy the rest of their lives while they last.
Characters
Silkie (cameo)
Elderly Robin
Elderly Starfire
Elderly Beast Boy
Elderly Raven
Elderly Cyborg
Trivia
Elderly Raven is seen unhooded for the first time in the series. She is usually seen with her hood on.
Elderly Raven also has a different design in this episode. All the other Titans have their regular elderly designs.
In the Elderly Titans' living room, there's a tipped over urn with the inscription "Silkie VI". Ashes have spilled out of the urn, as well as a pink antenna. This either means that that was the 6th generation offspring of the original Silkie, or the Titans were able to liberate at least five other larvae from Killer Moth.
There's also an urn for Silkie II on the media shelf, and one for Dave as well. His collar is wrapped around the urn.
Elderly Cyborg mentions someone by the name of Claire when he hears spirits, possibly his late wife.
This episode can be considered as a jab on the majority of millennials who squander their money and health without planning for their future, though the message at the end seems to indicate otherwise.
This is the last episode to use the 2012 DC Logo.
Music from "Coconut Cream Pie" is heard.
Continuity
Raven is unhooded for the forty-first time in the series.
This is the second time that the Titans get tattoos, the first time being in "Beast Man".
The elderly Titans reappear for the fifth time in the series. Their other appearances were in "Super Robin", "Salty Codgers", "More of the Same" and "Operation Dude Rescue" (excluding the female elderly Titans).
Raven's liking for elderly people is shown again. The first time she had a liking attitude towards elderly people was in "Salty Codgers".
The Titans use the time machine for the fifth time. The other uses were in "Money Grandma", "More of the Same", "Sandwich Thief" and "Operation Dude Rescue".
This is the fourth episode where the Titans change their future lives. The first three times were in "Staring at the Future", "Money Grandma" and "More of the Same".
The background seductive lady voice is heard again. The first time was in "Man Person".
As Elderly Starfire fades away, she laments that she will not be able to afford a funeral, and that her cats will leave her. This might suggest that, with old age, she becomes a cat lady again, like she did in "Cat's Fancy".
Raven shows interest in elderly Beast Boy's stories for the second time. The first time was in "Salty Codgers".
References
The tune that the elderly Titans exercise to is eerily similar to the song "Girls Just Wanna Have Fun" by Cyndi Lauper. Interestingly, the song is about girls who want to have fun now, despite the criticism of their parents; similar to this episode's plot.
The backdrops for "Nature's Candy" and "A Wonderful Food Item" are homages of the Looney Tunes title sequence.
When Elderly Raven falls and pretends that she isn't able to stand up, she's referencing the "I've Fallen and I Can't Get Up" commercials that started in the late 80s. The catchphrase came from an elderly woman who had fallen and literally couldn't get up.

Soon after that gag, Raven picks up her sandwich, which clearly has beef in it, and pretends like she doesn't know where the beef is. This parodies a Wendy's commercial featuring an elderly lady demanding "Where's the beef?" in her fast food hamburger. Elderly Starfire comments how Elderly Raven's jokes never get old.

When Cyborg and Beast Boy are being educated about getting a 401k, they think a 401k is a candy bar. Specifically, they are thinking of a 100 Grand Bar, which technically could be called a 100k Bar since a "grand" and a "k" can both equal "one thousand".
Two of Beast Boy's tattoos are a scary 

cat 

face from the Japanese 1977 horror film House (Hausu) and Iron Fist's 

dragon logo 

from Marvel's The Ultimate Spider-Man. Both Iron Fist and Beast Boy were voiced by Greg Cipes. 
Errors
The Pelican (as a hologram) is still the rock animal even after 70 years have passed.
Running Gags
Raven telling the other Titans to think about "later" and them not caring.
The Titans making bad decisions with impacts their older selves.
Cyborg complaining about helping Beast Boy get off the toilet.
Transcript
The transcript for "Think About Your Future" can be found here.
Gallery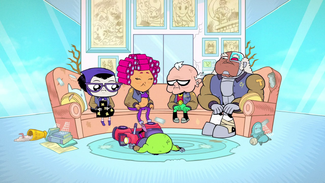 The image gallery for Think About Your Future may be viewed here.