"Throne of Bones" is the forty-first episode of the fourth season of Teen Titans Go!, and the one-hundred-ninety-eighth overall episode of the series.
Summary
When the other Titans start listening to heavy metal music, Robin warns them of the dangers.
Plot
The episode begins with Robin telling the Titans all about smooth jazz. He tells them that it is the best fine art of music in the world and leads them into an amphitheater where musicians will be playing smooth jazz music. Instead of that slow, calming music they expected earlier, they end up with people who are screaming, hissing and even getting very rough with each other. The other Titans soon discover what the concert really is. The crowd starts throwing stuff and making a fuss, and it's not long before Starfire, Raven, Beast Boy and Cyborg fall under the spell of Heavy Metal Rock. On the other hand, Robin is trying to escape the flow of the angry mob in the amphitheater in a very cute scared voice saying that that was not what he had expected tonight and grabbing the other Titans, he escapes from the amphitheater via his grapple gun.
The next morning, Robin is in the kitchen with his alto saxophone, playing some smooth jazz until the other Titans, who are now in their new death metal attire, come into the room screaming just like the people at the amphitheater did. Robin warns them about the dangers of heavy metal and how it can tremendously affect them, as well as suggesting some smooth jazz to start off this calm morning. However, the others insist that they are "metal" now. Robin makes them an awesome breakfast of bacon and eggs and sausage, but instead of eating and chewing slowly, the metal Titans start throwing the food, eating messily and even breaking the furniture.
Meanwhile, in the garage, Robin plays some smooth records to calm their metal down a bit. He asked the Titans if they knew what records were, but they don't seem to care, unfortunately, and play a heavy metal record that is actually a secret portal. Robin follows them and it leads them to a whole new heavy metal dimension with chains and more heavy metal. All of a sudden, a Heavy Metal Demon starts to rumble, thunder and boom majestically. The four metal Titans, spellbound by the heavy metal music, call the demon their new leader and Robin doesn't know what to do. Then the demon disregards Robin by saying that he is not metal enough and banishes poor Robin back to the garage. Luckily, he has a plan!
With some METAL transformations and new do's, Robin is READY to take down that demon and save his friends from the latter's manipulation. Nevertheless, the others seem to pretend not to know him. Starfire then says after that they take orders from "HIM!" (referring the demon) now and Beast Boy then chimes in that they've got a new leader already. It is an all out heavy metal battle now and Robin used his guts and willpower to go through the challenges that he has to face. His biggest challenge is to face "the pit". Raven claims that no one has EVER survived the pit, but Robin says that he CAN DO IT! The Titans are very shocked when Robin manages to DO IT though and breaking from the manipulation of the demon, they join Robin and try to finish the demon off with heavy metal. Unluckily, the demon overpower them and Robin's guitar breaks during the process.
Then the demon asks what Robin is gonna do now considering that he is not metal now. Robin replies with a confident heart, "Who needs an ax...when you got a sax?". He begins playing a smooth tune on the sax which hurts the demon's soul, leading the others to break free from the heavy metal curse that Robin has warned the Titans about and causing the demon to age-regress back to an infant. Robin now learns that you don't have to be smooth or heavy to be included, as what everyone needs now is good jazz. Everyone thanks Robin and he replies with "smooth". Robin is now the King of Rock and he tells his fellow metal-heads that he learned that it doesn't matter what type of music you're into; what matters is that you can appreciate a good jam. He happily and self-indulgently plays some jazz music. The episode ends with a befuddled skeleton guy saying "smooth" as he winks at the viewers. .
Characters
Trivia
This episode premiered a year after "Booby Trap House".
The style of metal and jazz fusion is most commonly associated with "jam bands" such as Phish and progressive rock bands like Pink Floyd and the Talking Heads.
It is revealed that Robin is fond of jazz instead of death metal, and can play the saxophone skillfully.
Continuity
Raven is unhooded for the 72nd time.
This episode isn't the first time a Titan was disgusted by bone furniture. In "Booty Scooty", Cyborg in particular was creeped out by a piano made out of bone.
The demonic graphic for Demon's Tongue Mountain, first seen in "Rad Dudes with Bad Tudes", is reused as a stage prop at the heavy metal concert the Titans accidentally attend.
When Robin was playing the smooth jazz against the Death Metal Demon, the same jazz music could be heard when Beast Boy and Cyborg were singing a karaoke of Waffles Song.
When the Titans were entering the theater, Raven was seen wearing a monocle. This may be a hint to her poor eyesight which was first stated in "The Cruel Giggling Ghoul".
References
The amp that goes up to eleven is a joke from the 1984 film, This Is Spinal Tap, a mockumentery about a fake band called "Spinal Tap".
Beast Boy's metal appearance resembles that of Lemmy from Motörhead.
Robin's metal appearance resembles Glenn Danzig.
Robin's jazz appearance resembles Kenny G.
Raven's metal appearance resembles Joan Jett.

Her metal hairstyle resembles Ashi from the fifth season of Samurai Jack.

Interestingly, both Raven and Ashi are cambions and both are voiced by Tara Strong.

The hand gesture the Titans make while thrashing to metal music is often referred to as "the sign of the horns" or the "rock on" hand gesture. It's typically made with the thumb over the ring and middle finger. The Titans made this hand gesture with the thumb extended, which also happens to be sign language for "I love you".

Nevertheless, you must NEVER use this gesture in countries like Spain and Italy, since the people of these countries actually consider it an offensive gesture that implies a wife is cheating on her husband.

Recording a message or music backwards onto a record that is meant to be played forward is called "backmasking". Musicians of all kinds have used this recording technique in the past for a variety of reasons. Some bands, particularly metal bands, have been accused of using back-masking to record demonic messages.
The episode title itself is a reference of the TV show series Game of Thrones.

In addition, the general theme of hardcore music being an outlet for violence in this episode is most likely a reference to the violence in Game of Thrones and the show's success.
Errors
When the guitarist strums his electric guitar, the noise obviously breaks Cyborg's non-human eye, but in the next scene, the eye is unbroken. 
Robin asks the other Titans if they knew what a record was. None of them knew, but; however, Cyborg, in earlier episodes, seemed to know what they were. 
In "Spice Game", Robin only knows how to cook boiled potatoes, yet he can cook a breakfast of bacon, sausage and eggs in this episode.

It can be assumed that he has learned how to cook other types of food, though.
Running Gags
Robin playing smooth jazz.
The Titans (excluding Robin) making stuff and saying, "SO METAL!"
The Titans being aggressive.
Transcript
The transcript for "Throne of Bones" can be found here.
Gallery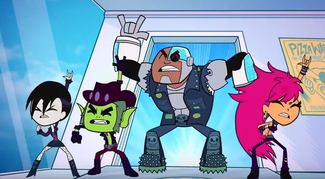 The image gallery for Throne of Bones may be viewed here.