"Titans Go Casual" is the 15th episode of the sixth season of Teen Titans Go!, and the two-hundred-seventy-sixth overall episode of the series.
Summary
The Superhero Board of Authority institutes a dress code, which leads the Titans to introduce Casual Tuesday.
Plot
One day, Cyborg, Beast Boy and Starfire are all anxious watching Raven trying to carefully pull out a Jenga block, fearing that the Jenga tower might collapse. However, Robin ruins the suspense by announcing that he has news from the "Superhero Board of Authority", which ultimately screws up the game. He then goes on by telling them that it is about a fixed dress code: capes (no, cloaks have been vetoed), tights (which are 50% tighter), underwear for both inside and outside (in case of Taco Night), and mandatory masks and utility belts. However, none of the four others are pleased of the new arrangement and Cyborg appears to have figured out that all the garments Robin mentioned are all things that he wears. Robin remains adamant on changing their uniforms and insists that "clothes maketh the man" so that they won't look like casual slobs. After having to change the saying by adding the term "lady-man", he gives them a scolding for not understanding the meaning of "maketh" and enforces the new dress code.
Later, Cyborg, Beast Boy and the girls abide by the new dress code, but it turns out that it has brought more annoyance than convenience-- Beast Boy cannot feel his legs anymore, Cyborg cannot find his wallet among all of the utility belt's pockets, Starfire is uncomfortable with her double underwear, and Raven's cape is ridiculously long. Nonetheless, Robin still believes that dressing so can make them being taken seriously, and to prove his point he has thrown their original uniforms (excluding Cyborg's, since he never has clothes to begin with). When the rest believes that they are wrong with him being a cool boss, they notice that Robin seems to falter with the determination regarding the dress code, and decides to lie to him just to have more dress code flexibility.
Afterwards, Robin sets up Casual Tuesday, and the Titans all get to wear the causal wear they want, though Beast Boy chooses to take the fullest liberty and go naked with socks, which his friends find it indecent. However, their casual time doesn't last long as Robin receives a crime alert regarding the H.I.V.E robbing the bank. Unfortunately, he cannot wear his uniform back because it turns out that Raven has dumped it in retaliation. Therefore, all five of them have to stick with their casual outfits for the time being. But it turns out that not only Robin scathes himself, the four other Titans also lose all of their powers, due to all of them dressed as casual slobs, and they all get quickly defeated by Mammoth as a result.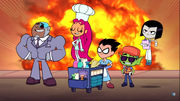 After realizing that the four others have lied to him about him being cool and their boss, Robin is angered, but decides to fix up the team's morale first, by suggesting wearing "professional clothing". Cyborg becomes a lawyer, Raven is now a doctor, Beast Boy is a crossing guard, Starfire is "Starbaker", and Robin is a housekeeping cleaner. Even though it takes Robin a bit longer to arrive at the crime scene as he cannot fly like the four others do, he later regroups with them and they all proceed to all charge at the H.I.V.E. This time, thanks to the power of wearing professional clothes, the Titans have a satisfying battle and beat their rivals to bits.
After this battle, the Titans finally understand the true meaning of "Clothes Maketh the Men and the Lady-Men", but Beast Boy just feels like it isn't enough for him. This time, he would rather experience the power of being proudly naked, much to the four other's horror, and Raven concludes him as indecent, ending the episode.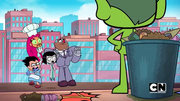 Characters
Trivia
Judging by how the "Superhero Board of Authority" dress code is all about Robin's clothing items, it is safe to assume that Robin himself made this so-called authority up.
"Taco Tuesday" is an expression that either means at best a refreshed feast of tacos or at worst your underpants becoming crimson red after you have indigestion and all the undigested grease all leaked onto them. No wonder Raven and Starfire were grossed out when they heard of it from Robin.
This is the H.I.V.E.'s first appearance in Season 6.
This episode reveals that the other phrase Sticky Joe knows how to say is "How-ding!".
This episode was likely inspired by the term "Casual Friday", which was a special Friday for employees in some offices that usually have them worn very formal attire to dress in something more relaxed and less formal. Therefore, it basically means the Titans are dressing causally, instead of their normal outfits.
Continuity 
Raven is seen unhooded for the 107th time in the series.
The H.I.V.E robbing bank animation from "Super Robin" is reused when Robin is watching them on his communicator.
Robin's ugly face that is first shown in "Kabooms" and "The Bergerac" appears on the "cool boss" mug segments.
Beast Boy once again appears naked without being concerned about being around other people. ("Laundry Day")
Starfire's love for cats is shown on her sweater which has a cat logo on it.
References
Cyborg directly mentions his idol Tom Selleck, who is most renowned for starring as Thomas Magnum from Magnum P.I. (1980-1988).
The scene where Cyborg yells "Curse you, Casual Tuesday!" is similar to the lines said Bingo and A.R.F in the Disney Junior TV series "Puppy Dog Pals," mainly said in "Valentine Surprise," where they said "Curse you, Valentine's Day!"
Cyborg's pose right after he dresses as a lawyer is a reference to one of the Ace Attorney protagonists Phoenix Wright's famous objecting/pointing pose.
As Billy Numerous is charging at Beast Boy, the Howie Scream is heard.
Robin's housekeeper outfit resembles Alice's outfit from The Brady Bunch.
Errors
The Titans blamed their outfits for rendering them powerless. But Cyborg didn't change his costume, he basically just added some clothes on since he isn't supposed to take off his body parts for said clothes.

Furthermore, Raven and Starfire were unable to use their powers, despite their powers being inherited from their respective ancestry and not from the costumes themselves.

Beast Boy couldn't transform when he was mostly naked in this episode, but in other episodes, he did so perfectly fine.
On TV listings, this episode is listed as "Brain Percentages." 
Raven blames Robin for throwing away their own clothes, but she, as a hypocrite, has also thrown out Robin's outfit.
The term "lady-man" doesn't exist and is merely a gag. It should be "woman" instead.
During the song when the titans are in the car, beast boy's arm is a tan color.
Running Gags
A "cool boss" mug with an ugly Robin face is shown every time "cool boss" is mentioned.
"Clothes make the man and the lady-man" being repeated.
Robin and/or Raven having thrown away the Titans' usual outfits.

Sticky Joe would also appear in the dumpster and pretend to be a superhero.

Beast Boy being naked and the other Titans, as well as several bystanders being disgusted by his nudity (with Raven describing him as indecent TWICE).
Transcript
The transcript for "Teen Titans Go Casual" can be viewed here.
Gallery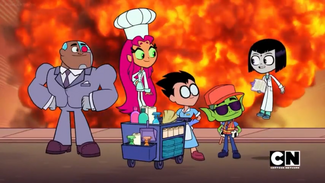 The image gallery for Titans Go Casual may be viewed here.