I am not a monster. I do what any normal person would do with teeth. I eat them, Ta-ta-ra-ta-ta!

--Tooth Fairy to the Teen Titans

The Tooth Fairy is a minor character and villainess who debuts in the episode "Dignity of Teeth". She is responsible for collecting teeth from people all around the world, once they fall out, and leaves money under their pillow, corresponding to the popular myth of "The Tooth Fairy". She is voiced by Khary Payton.
Bio
The Tooth Fairy first appears as a black shadow in the beginning of the episode, collecting the teeth of Beast Boy, Starfire, Cyborg and Robin and leaving behind generous amounts of money for them. This caused the four Titans to go corrupt and become obsessed with leaving teeth under their pillow. The four toothless Titans eventually forced themselves on Raven attempting to get her teeth (since the four of them ran out of their own). Raven, who had enough of the behavior of her friends, went to retrieve her friends' teeth from the Tooth Fairy herself.
At her home in the middle of an alley, the Tooth Fairy appeared. In order for Raven to get back her friend's teeth, the Tooth Fairy challenged Raven to a game of "eating teeth". If Raven won, she would get her friend's teeth back, and if the Tooth Fairy won, she'd get Raven's teeth. The Tooth Fairy had a strong start eating the numerous teeth because she'd been used to eating them for so long, leaving a hesitant and disgusted Raven gagging at the idea of trying just one. Eventually, though, Raven tried one and found out they aren't that bad. She inhaled her portion of teeth she was supposed to eat. The Tooth Fairy had a strong lead early in the contest, but she eventually topped out near the end... Raven finished her portions. Honoring her word, the Tooth Fairy gave Raven her friend's teeth back, even sharing a joke between the two in good spirit.
Physical Appearance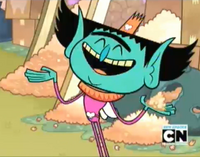 She has blue skin and black hair shaped like a smile. Her complexion is sort of elfish, with sharp pointy ears and a large nose. The Tooth Fairy also has a unibrow, and she carries around a wand with a large molar fixed to the end of it. Her original attire consisted of an orange shirt with a little tooth on the front, as well as a pair of tooth-like slippers. She then changed into a pink jumpsuit with an orange collar. She also wore a crown with a tooth on the front when she changed.
Episode Appearance
Songs sung by the Tooth Fairy
Trivia
Gallery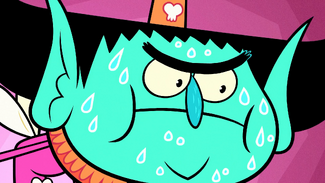 The image gallery for Tooth Fairy may be viewed here.