"Tower Power" is the sixteenth episode of the first season of Teen Titans Go!, and the sixteenth overall episode of the series.
Synopsis
After a mishap, Cyborg gets plugged into the Tower, causing him to go mad with power.
Plot
The episode starts off with Cyborg excited for a late night TV marathon. The rest of the Titans are going to watch it too, but they were all too tired. Cyborg then rudely wakes them all up, except for Robin, whom he draws a mustache on his face (and a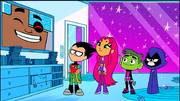 smiley face on his tongue).
Cyborg then questions why they all can't stay up like he can. He flashes back to when that was also a problem when he was fixing up an old airplane early in the morning and accidentally crushed the other Titans with its engine. They point out that he is half robot, which allows him to have more energy because there's less of
him to get tired. Beast Boy then accidentally spits soda on Cyborg, causing him to malfunction and needing to clean his parts. The Titans offer to help him, even though Cyborg doesn't think they're competent enough with even basic technology (and therefore, not his advanced tech), though he eventually submits.
However, as Cyborg suspected, the Titans do a terrible job, as Starfire points out. The end up reassembling Cyborg into a toilet, with a large pile of unused parts still lying around. Jokingly, they say he's fine and this toilet form is how they remember him looking. Unable to put him back together properly, the Titans plug
Cyborg into the Tower. This gives Cyborg complete control and access to all of the Tower's systems. Even after Beast Boy spills soda on Cyborg again, everybody thinks this will be great.
The next day, all the Titans see how annoying Cyborg's complete access to the Tower becomes. He wakes Beast Boy up early, plays non-meditating music during Raven's meditation, and creeps on Robin in the shower as well as sending him out of it by increasing the water pressure too much. It's not seen how he annoys Starfire, but it is assumed he did something annoying to her too. The Titans plan to unplug him, but Cyborg overhears this and attacks them with household appliances, having become completely robotic. He attacks Raven with a vacuum cleaner, Beast Boy with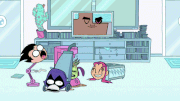 a coffee maker, Starfire with a toaster, and Robin with a lamp. The Titans end up beating these appliances with some struggle. Cyborg then says he's willing to be unplugged having admitted that he went too far with being plugged into the tower, which throws the Titans off guard and allowing Cyborg to gas them all, knocking them out.
When they awaken, they've all become the appliances they were attacked by, but they all seem happy about it.
Characters
Household Objects (debut)
Batman (cameo on screen)
Joker (cameo on screen)
Two-Face (cameo on screen)
Songs
Trivia.
This was Adam Beechen's only episode as a writer.
Continuity
References
The two VHS tapes have the names Cats Don't Dance and The Iron Giant, both Warner Bros. animated movies released during the 1990's.
When Cyborg was talking about how the VHS could record TV shows, it showed something that looked like Batman: The Animated Series from the early '90s.
The vacuum that Beast Boy is using looks and makes noises very similar to the Star Wars character R2-D2.
The Titans turning Cyborg into a toilet is similar to the original series episode "Stranded", where Beast Boy tried putting Cyborg back together, and kept turning him into things that he looked nothing like.
Cyborg mentions that he has all six seasons of Webster on VHS, meaning that the series must take place after all six seasons were released on VHS. He also mentions the episode, "Burn Out".
Cyborg saying he's "as excited as the Pointer Sisters" is a reference to their hit song "I'm so Excited" which was also on Cyborg's "Pointer Sisters Mix"
When Cyborg shorts out for the second time and the monitor starts showing static, very briefly the faces of Batman, Joker, and Two-Face flash onto the screen.
The songs on Cyborg's "Pointer Sisters Mix" are:

"Brian's Lament" by ULTRA Squad
"More Than a Woman" by Bee Gees
"Thermos Jam" by Casey's Hat Band
"I'm So Excited" by Pointer Sisters
"No, No" by Jelly Nex
"Bad Girls" by Donna Summer            
"Nobody Got Time" by Socko

When Robin is in the shower, he's singing a parody song of the original Teen Titans series theme song by Puffy AmiYumi.
Raven has an Etrigan statue in her room.
When Cyborg becomes more robotic, he becomes a lot like HAL 9000 from 2001: A Space Odyssey. There's even a part where HAL's viewcam appears.

Cyborg also stated "I'm sorry, I can't let you do that." which is a famous quote from HAL 9000.
Cyborg becoming more robotic may also be a reference to the original series episode Overdrive, where he turned off all of his human functions and his voice became similarly robotic.
Cyborg unleashing a gas through the vent to knock out the Titans is a nod to the video game Portal, where GLaDoS kills everyone in Aperture Science excluding the protagonist through the ventilation of neurotoxin gas.

The ending is a twisted spoof, similar to the desires of Brother Blood from the original Teen Titans show in the episode "Titans East - Part 2". Brother Blood desires to transform the Titans into cyborgs, Cyborg in Teen Titans Go! decides to transform the Titans into appliances run by him and the T-tower computer system.
Behind Cyborg at one point, you could see a Catwoman clock.
The episodes name is strikingly similar to Tower of Power, a music group.

Also, the title of this episode is barely similar from the Regular Show episode called "Power Tower".
Also, The title of this episode is similar from the Fleabag Monkeyface episode "Flower Power".
Errors
Cyborg had a desire to be full computer in this episode. Although in several other episodes he has sorrow over being mechanical and wishes to be fully human. ("Super Robin", "Real Boy Adventures")
Cyborg claims that VCRs were from the '80s, but the first VCRs were actually released in 1978.
In this episode, Beast Boy says that Cyborg got his powers from an accident that required him to replace several body parts, which was that actual canon story of how Cyborg is half robot, but in the episode "Dog Hand", the flashback of Cyborg as a baby says he is half robot because his dad was a toaster. Cyborg also did not get his powers when he was a baby.
The mustache and smiley face aren't on Robin when he walks next to Cyborg.
At the end, Raven remarked "You're getting crumbs everywhere". Robin and Beast Boy were not getting crumbs anywhere. But Starfire did get crumbs everywhere, however.
Cyborg talks about how the Titans' flesh and blood are useless, and he makes them hold the heavy thing. However, Starfire could have easily lifted it due to the fact that she has superstrength. Also, Beast Boy could have turned into a strong animal or Raven could have lifted it with her telekinesis.
In Netflix, this episode is mistaken to be called 'Tower of Power'
Running Gags
Cyborg seems to like '80s pop culture, and is continuously explaining it to the other Titans.
Transcript
The transcript for "Tower Power" can be found here.
Gallery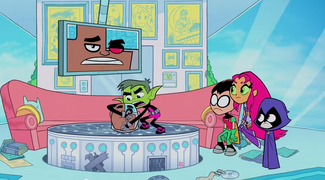 The image gallery for Tower Power may be viewed here.
v - e - d Episode Guide
Season 1: April 23, 2013 - June 5, 2014
Legendary Sandwich • Pie Bros • Driver's Ed • Dog Hand • Double Trouble • The Date • Dude Relax • Laundry Day • Ghostboy • La Larva de Amor • Hey Pizza! • Gorilla • Girl's Night Out • You're Fired! • Super Robin • Tower Power • Parasite • Starliar • Meatball Party • Staff Meeting • Terra-ized • Artful Dodgers • Burger vs. Burrito • Matched • Colors of Raven • The Left Leg • Books • Lazy Sunday • Starfire the Terrible • Power Moves • Staring at the Future • No Power • Sidekick • Caged Tiger • Second Christmas • Nose Mouth • Legs • Breakfast Cheese • Waffles • Be Mine • Opposites • Birds • Brain Food • In and Out • Little Buddies • Missing • Uncle Jokes • Más y Menos • Dreams • Grandma Voice • Real Magic • Puppets, Whaaaaat?

Season 2: June 12, 2014 - July 30, 2015
Mr Butt • Man Person • Pirates • Money Grandma • I See You • Brian • Nature • Salty Codgers • Knowledge • Slumber Party • Love Monsters • Baby Hands • Caramel Apples • Sandwich Thief • Friendship • Vegetables • The Mask • Serious Business • Halloween • Boys vs Girls • Body Adventure • Road Trip • Thanksgiving • The Best Robin • Mouth Hole • Hot Garbage • Robin Backwards • Crazy Day • Smile Bones • Real Boy Adventures • Hose Water • Let's Get Serious • Tamaranian Vacation • Rocks and Water • Multiple Trick Pony • Truth, Justice and What? • Two Bumble Bees and a Wasp • Oil Drums • Video Game References • Cool School • Kicking a Ball and Pretending to Be Hurt • Head Fruit • Yearbook Madness • Beast Man • Operation Tin Man • Nean • Campfire Stories • And the Award for Sound Design Goes to Rob • The HIVE Five • The Return of Slade • More of the Same • Some of Their Parts

Season 3: July 31, 2015 - October 13, 2016
Cat's Fancy • Leg Day • Dignity of Teeth • Croissant • Spice Game • I'm the Sauce • Hey You, Don't Forget about Me in Your Memory • Accept the Next Proposition You Hear • The Fourth Wall • 40%, 40%, 20% • Grube's Fairytales • A Farce • Scary Figure Dance • Animals, It's Just a Word! • BBBDAY! • Black Friday • Two Parter • The True Meaning of Christmas • Squash & Stretch • Garage Sale • Secret Garden • The Cruel Giggling Ghoul • How 'Bout Some Effort • Pyramid Scheme • Beast Boy's St. Patrick's Day Luck, and It's Bad • The Teen Titans Go Easter Holiday Classic • Batman v Teen Titans: Dark Injustice • Bottle Episode • Finally a Lesson • Arms Race with Legs • Obinray • Wally T • Rad Dudes with Bad Tudes • Operation Dude Rescue • History Lesson • The Art of Ninjutsu • Think About Your Future • TTG v PPG • Coconut Cream Pie • Pure Protein • Open Door Policy • Crazy Desire Island • The Titans Show • Booty Scooty • Who's Laughing Now • Oregon Trail • Snuggle Time • Oh Yeah! • Riding the Dragon • The Overbite • The Cape

Season 4: October 20, 2016 - June 25, 2018
Shrimps and Prime Rib • Halloween v Christmas • Booby Trap House • Fish Water • TV Knight • Teen Titans Save Christmas • BBSFBDAY! • The Streak • The Inner Beauty of a Cactus • Movie Night • BBRAE • Permanent Record • Titan Saving Time • The Gold Standard • Master Detective • Easter Creeps • Hand Zombie • Employee of the Month: Redux • The Avogodo • Orangins • Jinxed • Brain Percentages • BL4Z3 • Hot Salad Water • I Saw You Dance • The Story in Your Eyes • Playing Hard to Get • The Night Begins to Shine • Lication • Labor Day • Classic Titans • Ones and Zeroes • Career Day • TV Knight 2 • Justice League's Next Top Talent Idol Star • The Academy • Costume Contest • Throne of Bones • Demon Prom • Thanksgetting • The Self-Indulgent 200th Episode Spectacular! • BBCYFSHIPBDAY • Beast Girl • Flashback • Bro-Pocalypse • Mo' Money Mo' Problems • TV Knight 3
Season 5: June 25, 2018 - April 4, 2020
The Scoop! • Chicken in the Cradle • Kabooms • Tower Renovation • My Name is Jose • The Power of Shrimps • Monster Squad • Real Orangins • Quantum Fun • The Fight • The Groover • Justice League's Next Top Talent Idol Star: Second Greatest Team Edition • How's this for a Special? Spaaaace • BBRBDAY • Slapping Butts and Celebrating for No Reason • Nostalgia is Not a Substitute for an Actual Story • Business Ethics Wink Wink • Genie President • Tall Titan Tales • I Used to Be a Peoples • The Metric System vs Freedom • The Chaff • Them Soviet Boys • Little Elvis • Booty Eggs • TV Knight 4 • Lil' Dimples • Don't Be an Icarus • Stockton, CA! • What's Opera Titans • Forest Pirates • The Bergerac • Snot and Tears • Campfire! • What We Learned at Camp • Communicate Openly • Royal Jelly • Strength of a Grown Man • Had to Be There • Girls Night In • The Great Disaster • The Viewers Decide
Season 6: October 4, 2019 - present
Butt Atoms • TV Knight 5 • Witches Brew • That's What's Up! • Crab Shenanigans • Brobots • Brain Flip • Beast Boy on a Shelf • Christmas Crusaders • We're Off to Get Awards • Bat Scouts • Walk Away • Record Book • Magic Man • Titans Go Casual • Rain on Your Wedding Day • Egg Hunt • Justice League's Next Top Talent Idol Star: Justice League Edition • Mission to Find the Lost Stems • Drums • Guitar • Bass • You're The One
Top of the Titans: April 27, 2018 - July 20, 2018
Raddest Songs • Best Love Songs • Beast Boy & Cyborg Songs • Dance Party • Best Rivals