"Tower Renovation" is the fifth episode of the fifth season of Teen Titans Go! and the two-hundred-fourteenth overall episode of the series. The episode picks up after Teen Titans Go! To the Movies.
Summary
Thanks to Slade leaving the Tower in shambles, the Titans have no choice but to repair their home or find a new one. As usual, everything goes terribly wrong when they are denied a permit to rebuild. Will the Titans get a new abode, or be left on the road?
Plot
Although the Titans Tower has been reduced to a pile of wreckage, the Teen Titans are taking it pretty well, surprisingly. Raven's casually reading, Starfire's playing with her new toilet rat friend, and Cyborg's having fun with his "rubble ducky" in the tub. Everyone's strangely at peace, except for Robin, who's traumatized by Slade's merciless annihilation of their home. Beast Boy, choosing to enter a still-standing door instead of simply walking around it, offers everybody some rubble sandwiches. All four happily eat the trash, but Robin kicks them away, saying they're hard to swallow just like Slade's destruction. Slapping a sandwich out of Cyborg's hand, he starts yelling at the Titans for appreciating the demolition. Instead of putting up without a roof, having rampant fires around them, and using trashy hat-racks, Robin says they have to undergo Tower renovation. But manual labor is just too much for the other Titans to handle. To try and pump them up, Robin starts reminding them of the countless times the White House was rebuilt, both in real-life wars and action movies. Raven orders him to shut up, and although the speech was long and dull, it manages to motivate the team.
Grabbing some blueprints, Robin starts to map out their new base, complete with a west wing, a central Oval Office, and a rose garden. Robin's architectural skills please the Titans, and Beast Boy follows up with an Abe Lincoln room (to have sleepovers with the deceased POTUS). Raven wants to add a press-room so she can go demon mode on reporters. And Starfire can't wait to add a situation room (aka a cat hangout place). Cyborg's a little confused as to why they're building a president's house, but he's cool with it. Finished with the plans, Robin announces that they now have to head out to get some construction permits. The Titans scream in fear because doing that means coming into contact with greedy government officials and, even worse, red tape. Robin tries to put his hand on Starfire's neck, only for Starfire to throw him to the left of the floor and zap him with her star bolts. Brushing off the bruises and cuts, Robin says the bureaucracy will most definitely help them out. Hopping into the elevator, they soon realize it won't work in the non-existent building.
At the Jump City City Hall, the Titans enter the dark, spooky office. Inside is a disgusting man, chomping on a sandwich. Grossed out, the Titans approach him, the City Inspector, and Robin asks for approval of his plans. With a quick stamp, the inspector denies them. Breaking down in tears, Robin has to be dragged out by Cyborg as the unforgiving inspector just laughs.
Back at the Tower, or more like the heap, the Titans are sitting around, forlorn. Raven and Starfire are disheartened by the cruel man, and Beast Boy and Cyborg are ready to accept the rubble life. Robin, not ready to give up, says they'll just have to buy a new Tower. Suddenly, the Titans are in an episode of "Home Hawks", looking for a new T-shaped abode in the city. All of them have very specific appropriations, such as being near (but not too near) a school, easily commutable, and close to a bird learning center. Easy enough.
The first house they pull up to isn't much of an improvement; it looks about ready to collapse and also haunted. Robin's really optimistic for its cheapness, but once they see the filthy inside, the Titans are even more opposed to the crime-scene looking home. Robin tries to convince them that it'll be a good fixer-upper, but they refuse. Off to the next house! The Titans arrive at the second option, a fully-furnished, comfy-looking building. But once again, the Titans find everything inside, from the tiles to the décor, and the color. Robin says those are all easy fixes, but once again, the Titans just won't have any of it. So they move on to the third, a giant R-shaped brick building. This won't do for them, either. Beast Boy points out the obvious fact that it's not even a T, so Robin suggests that it could stand for Robin. The Titans won't have any of that ridiculousness, so now for their last resort.
Which is back to the rubble pile. Cyborg and Starfire are bummed that their unrealistic expectations couldn't be reached, and Beast Boy's tired of eating metal and cracking his teeth. When Starfire mentions the inspector permits, Robin suddenly has another idea: build WITHOUT permits! The other four Titans gasp in bewilderment, Raven starts spouting off about the inspector finding out, but Robin shoves back into her portal and activates his staff American flag. Another one of his White House speeches ensues, and it's uninteresting enough to persuade the Titans to help him. Applying chapstick, Robin orders the others to wet their lips for whistling and working.
A working montage ensues, with all The Titans finding creative ways to reconstruct their lost residence (whilst whistling). Cyborg acts like a bulldozer and uses his mouth and... hole... to turn raw materials into refined ones, Raven uses her possessed hammer to chop down a tree, Beast Boy uses his octopus arms to hit in nails and his beaver teeth to gnaw a tree, and Starfire, well, she also bites a tree. Construction isn't going to fit into one episode, so supervisor Robin orders them to whistle faster. And if their smoothness was bad before, now it was really bad, with bent nails, broken windows, and severed fingers.
Just then, the insidious inspector arrives, having heard the work whistles. He declares that their permit was denied, and so, for their disobedience, they must face red tape (enhanced by electricity)! The Titans are hopeless at the thought of such a powerful weapon, so Robin goes into another Oval Office speech, talking about jet assaults and humankind. Raven slaps the nonsense out of him, and Starfire complains about the boring speech. Realizing it really isn't any use, he orders them to GO!
The Titans dash at the inspector and Robin tries to take him out with his staff, only to have it taken from him and smacked with it. Cyborg's rocket launchers are wrapped up in tape, re-aimed at himself, and detonate. Starfire, trying to save Robin from staff abuse, shoots lasers at the bureaucrat, only to have them reflected back at her. Lion-form Beast Boy is easily subdued by the distracting red tape, and Raven, their last hope, has her mouth taped shut before she can utter a spell. And just like that, all of the Titans are captured and caught in a red-tape net. The City Inspector officially closes the work site...forever. Raven's magic scissors, Cyborg's buzz saw, and even Beast Boy's teeth can't break them from their bonds. Only one thing can, a fat wad of cash. Robin offers the money to him "to wet your beak," and the pig-like fool greedily takes the bribe. With a quick approval stamp on Robin's head, the Titans are freed from the tape. The inspector thanks Robin for the "donation" and promptly jumps into the ocean like a madman. Raven says they probably should have bribed him first, but Robin only has one thing on his mind: them getting back to work!
In just a few seconds, thanks to the master building, the Titans Tower has been reconstructed. The exterior AND interior are new and sparkly, and all of the rooms, from the living room to the kitchen, to the toilet are on point. All the Titans are extremely satisfied with the new building, liking how it retains the old look, but adds new stuff as well. Robin joyfully proclaims they'll never have to rebuild it again. The universe, however, says otherwise, as a bolt of lightning strikes the tower, then a meteorite clips the east wing, and a UFO utterly obliterates the Tower. Robin can only cry in despair.
Characters
Main Characters
Minor Characters
Trivia
This is the second episode that contains the word "Tower" in the title, with the first one being "Tower Power".
"Tower Renovation" is the first episode to premiere since Teen Titans Go! to the Movies.
It is revealed that the sound of children laughing creeps Raven out.
The birds that Beast Boy talks about are chirping the same way the children that Raven hates when they laugh.
This episode aired three years after "Dignity of Teeth", four years after "Salty Codgers" and five years after "Staff Meeting".
It is revealed in this episode that Titans Tower is not counted as a Jump City architectural structure. In other words, it's not included as a part of the city.
Continuity
This episode continues after the events of Teen Titans Go! to the Movies.
Robin's bard hat from "Grube's Fairytales" can be seen on Starfire's hat stand.
The Titans do a whistle song, like in "Mouth Hole".

Also, Robin is still shown to be a masterful whistler, having delivered a sweet and soft tune in this episode.
The Titans except for Robin also wear their construction worker helmets from "Labor Day".

Starfire's love for cats is shown again.
References
Robin's quote, "Whistle while we work", references Disney's Snow White and the Seven Dwarfs.
Multiple photos, toys and accessories based on DC characters can be seen, including a Darkseid doll, a Brainiac desk, a Harley Quinn clock, a Batman photo, a Slade plunger and photos of The Flash and Supergirl.
Several real-life rooms from the U.S. White House are mentioned, including the Rose Garden, Oval Office, East and West Wings, the Lincoln Bedroom, and the James S. Brady Press Room.
During his speeches, Robin references multiple films in which the White House is severely destroyed, including Independence Day, Deep Impact, Olympus Has Fallen, White House Down, and Superman 2.
When Cyborg is in the bathtub, he says, "Rubble ducky, you are the one!" is a reference to Sesame Street.
The theme song to the video game Injustice 2 can be heard when the Teen Titans go to the City Hall to get approval from the City Inspector.
In Robin's renovated room, there is a brief shot of a book titled The Art of the Wayne, a reference to the real-life The Art of the Deal, a 1987 memoir/business advice book by Donald Trump.
The UFO that destroyed the renovated tower bears resemblance to the Independence Day mothership.
The City Inspector flings red tape over Raven's mouth during her spell incantation, canceling out her magic. In the original Teen Titans series, Red X did a similar move on Raven, muting her with a super adhesive x-shaped projectile.
Errors
Once again, Cyborg can be seen in a bathtub, even though water has been shown to instantly electrocute him in "Real Boy Adventures".
In one shot, Raven was up, but in another, she was down.
Running Gags
Beast Boy consistently offering food made out of metal and rubble.
The Titans eating rubble food.
The Titans screaming for almost no reason.
Robin making uninspiring "White House" speeches and the Titans getting extremely annoyed as a result of this.
Robin showing the other Titans potential new places for them to live and them rejecting every single one.
Transcript
The Transcript for "Tower Renovation" can be found here.
Gallery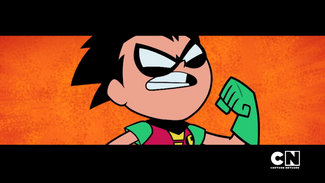 The image gallery for Tower Renovation may be viewed here.