"Uncle Jokes" is the forty-seventh episode of the first season of Teen Titans Go!, and the forty-seventh overall episode of the series.
Synopsis
Starfire joins Beast Boy and Cyborg's comedy trope, and learns their ways, so long as she avoids the dreaded uncle jokes that Robin takes pride in.
Plot
In Titans Tower, Beast Boy and Cyborg are at a table looking bored. Beast Boy bets Cyborg that he could make him smile, but Cyborg doubts it so he accepts the bet. Beast Boy turns into a pig and does the Pig Jig. Cyborg couldn't help but laugh. Beast Boy wins the bet but Cyborg bets Beast Boy that he would do the same and he accepts the bet. So Cyborg does the Robo Rag dance while he was in his circuits and Beast Boy also smiled. After that, they did a Bro Boogie. Starfire came to the kitchen and dances, she said she also wants to make them smile. Cyborg and Beast Boy remain in silence.
They tell Starfire that they are the only Titans who are funny. Starfire says she doesn't wish to be the only Titan who isn't funny, but Beast Boy and Cyborg reassure her by saying Robin isn't funny either. Robin bursts into the kitchen disagreeing. The boys tell Robin that he makes "uncle jokes." Starfire claims that Robin never tells jokes about his uncle, so Cyborg and Beast Boy explained that "uncle jokes" are basically cheesy or lame jokes that something an uncle would say . Starfire begs to join Cyborg's and Beast Boy's "comedy duo", but they say that she cannot join, since she can't joke either. Starfire begs until Beast Boy interrupts. He says Starfire is begging wrong. He says that Starfire should make cookies for the "comedy duo." The show "rewinds" to the scene before. Instead of begging, Starfire insists on baking cookies and the boys teach her their ways.
They start with silly walks. Beast Boy uses noodle legs, Cyborg does a Michael-Jackson-like walk, and Starfire bends her legs deeply, leading to her falling on her bottom. Her grade? C+. Next is fun with food. Cyborg puts on egg eyes and orange teeth, Beast boy has carrot teeth and bananas sticking out of his ears, and Starfire slurps a noodle with comes out her ears. B- Now body function humor. They are at a diner, with Cyborg with the smallest burp, Beast Boy with the medium burp, and Starfire with the loudest burp yet blowing the boys away. Literally. A+ Back at the tower, Starfire tries to create a catchphrase. "Boo ha ha." "I am the cool. Shamma lamma mu mu." They disagree to both, sadly.
Robin walks in with a uncle joke. "I was just wondering, what do you call a cow with no legs? Ground Beef! Boom!" He then rocks the air guitar. Raven laughs without showing her face. They call Robin uncle again, leaving Robin mad. Robin says to Cyborg and Beast Boy that they are a bad influence to Starfire, saying that he is the lone wolf leader, the boys are the good natured slackers, Raven is the sarcastic older sister, and Starfire is Robin's unrequited love. If Starfire will not turn back, the tower will be out of balance.
Starfire agrees, adding uncle at the end. The boys say Robin has just been uncle-ed. After the song, Uncle Jokes, Cyborg tells Starfire they are now a comedy trio. Robin yells like crazy saying that Starfire must turn back or it'll mess with their balance. His face starts to turn into the other Titans'. First with Cyborg, Beast Boy, Starfire, and Raven. The Titans start asking question as Raven answers. She says that since the Tower is out of balance, Robin has to turn into each of them in order to restore it. Back to Robin, he imitates the crime alert getting louder, and louder, and very annoying. He walks to the titans' computer and searches around the tower, finding their lawn gnomes, with Robin mistaking them as little ceramic people who attack gardens.
He turns in to the titans again destroying all the gnomes. The boys see in pain, realizing the only way to restore Robin is to kick Starfire out of their comedy trio. Starfire hovers over and laughs at Robin. "Ha ha! Look at Robin! He is cray-cray, for the real-real! Not for the play-play! Shamma lamma mu mu!" Starfire sees the boys aren't laughing. Cyborg says to Starfire it was a good joke, adding uncle at the end, while crying. Beast Boy does the same thing. Starfire realizes what they are doing, then accepts to quit but she will need to be comforted by the lone-wolf-leader. Robin bursts in with his grappling hook, then sweeps Starfire off her feet after she faints in his arms. The boys moan about kicking Starfire out of their group, and hope it's enough to make Robin back to normal. He hears them and the tower is balanced again. Robin makes one last joke. "Hey Beast Boy, is your face hurting you? 'Cause it's killing me! BOOM!" The episode ends with Raven giggling, "Boom indeed, Robin. Boom indeed."
Characters
Song
Trivia
This is the first episode to premiere on Wednesday night at 6:30 PM.
Beast Boy breaks the fourth wall when he tells Starfire to "try this again", then takes out a remote control and rewinds the scene.
The clip of Beast Boy looking shocked was used for an "Everyone With A Finn Hat On" commercial.
When Robin categorizes each member in their place of team balance, he calls Starfire his "unrequited love" out loud. This goes against his initial embarrassment of revealing his crush to the rest of the team.
When Robin categorizes each member, Raven is seen wearing purple gloves, which she has never been shown wearing before.
The following roles given to the Titans by Robin are:

Robin: Lone Wolf Leader
Cyborg + Beast Boy: Lazy Slackers
Raven: Typical Sarcastic Older Sister
Starfire: Unrequited Love
This episode reveals that, if things are out of balance on given roles, Robin goes crazy and impersonates the other Titans to rebalance it.

As of this episode, Starfire is the only Titan who has never said the phrase: "Azarath Metrion Zinthos", as Beast Boy said it in "Meatball Party" and "Brain Food", while Cyborg said it in "Legs".
On a top 10 video hosted by The Jacob Reviews on Youtube, this episode was the "dis-honorable mention".
Continuity
References
Beast Boy and Cyborg teaching Starfire about "silly walks" is a reference to the Monty Python sketch, "The Ministry of Silly Walks."
Raven can be seen reading a book with a cover similar to that of the journals from the Disney XD show Gravity Falls.
In the Uncle Jokes Rap, Starfire sounds very similar to the Auto-Tune Effect, a special effect commonly used by rappers.
Robin's "BOOM!!" catchphrase is probably a parody of "Wocka Wocka", Fozzie Bear's catchphrase in The Muppets.
Errors
In the Uncle Jokes song, Starfire uses the contraction, "don't", instead of saying "do not". This is the second episode where this happens. The first was "Meatball Party".
Running Gags
The screen getting stamped by the word a character used to end their joke, such as Robin's "BOOM" and Starfire's "Shamma-lamma-mu-mu".
Robin telling uncle jokes and Raven laughing at them.
Transcript
The transcript for "Uncle Jokes" can be found here.
Gallery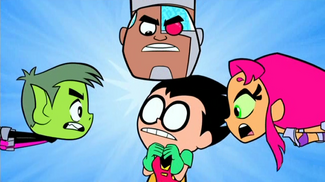 The image gallery for Uncle Jokes may be viewed here.
v - e - d Episode Guide
Season 1: April 23, 2013 - June 5, 2014
Legendary Sandwich • Pie Bros • Driver's Ed • Dog Hand • Double Trouble • The Date • Dude Relax • Laundry Day • Ghostboy • La Larva de Amor • Hey Pizza! • Gorilla • Girl's Night Out • You're Fired! • Super Robin • Tower Power • Parasite • Starliar • Meatball Party • Staff Meeting • Terra-ized • Artful Dodgers • Burger vs. Burrito • Matched • Colors of Raven • The Left Leg • Books • Lazy Sunday • Starfire the Terrible • Power Moves • Staring at the Future • No Power • Sidekick • Caged Tiger • Second Christmas • Nose Mouth • Legs • Breakfast Cheese • Waffles • Be Mine • Opposites • Birds • Brain Food • In and Out • Little Buddies • Missing • Uncle Jokes • Más y Menos • Dreams • Grandma Voice • Real Magic • Puppets, Whaaaaat?

Season 2: June 12, 2014 - July 30, 2015
Mr Butt • Man Person • Pirates • Money Grandma • I See You • Brian • Nature • Salty Codgers • Knowledge • Slumber Party • Love Monsters • Baby Hands • Caramel Apples • Sandwich Thief • Friendship • Vegetables • The Mask • Serious Business • Halloween • Boys vs Girls • Body Adventure • Road Trip • Thanksgiving • The Best Robin • Mouth Hole • Hot Garbage • Robin Backwards • Crazy Day • Smile Bones • Real Boy Adventures • Hose Water • Let's Get Serious • Tamaranian Vacation • Rocks and Water • Multiple Trick Pony • Truth, Justice and What? • Two Bumble Bees and a Wasp • Oil Drums • Video Game References • Cool School • Kicking a Ball and Pretending to Be Hurt • Head Fruit • Yearbook Madness • Beast Man • Operation Tin Man • Nean • Campfire Stories • And the Award for Sound Design Goes to Rob • The HIVE Five • The Return of Slade • More of the Same • Some of Their Parts

Season 3: July 31, 2015 - October 13, 2016
Cat's Fancy • Leg Day • Dignity of Teeth • Croissant • Spice Game • I'm the Sauce • Hey You, Don't Forget about Me in Your Memory • Accept the Next Proposition You Hear • The Fourth Wall • 40%, 40%, 20% • Grube's Fairytales • A Farce • Scary Figure Dance • Animals, It's Just a Word! • BBBDAY! • Black Friday • Two Parter • The True Meaning of Christmas • Squash & Stretch • Garage Sale • Secret Garden • The Cruel Giggling Ghoul • How 'Bout Some Effort • Pyramid Scheme • Beast Boy's St. Patrick's Day Luck, and It's Bad • The Teen Titans Go Easter Holiday Classic • Batman v Teen Titans: Dark Injustice • Bottle Episode • Finally a Lesson • Arms Race with Legs • Obinray • Wally T • Rad Dudes with Bad Tudes • Operation Dude Rescue • History Lesson • The Art of Ninjutsu • Think About Your Future • TTG v PPG • Coconut Cream Pie • Pure Protein • Open Door Policy • Crazy Desire Island • The Titans Show • Booty Scooty • Who's Laughing Now • Oregon Trail • Snuggle Time • Oh Yeah! • Riding the Dragon • The Overbite • The Cape

Season 4: October 20, 2016 - June 25, 2018
Shrimps and Prime Rib • Halloween v Christmas • Booby Trap House • Fish Water • TV Knight • Teen Titans Save Christmas • BBSFBDAY! • The Streak • The Inner Beauty of a Cactus • Movie Night • BBRAE • Permanent Record • Titan Saving Time • The Gold Standard • Master Detective • Easter Creeps • Hand Zombie • Employee of the Month: Redux • The Avogodo • Orangins • Jinxed • Brain Percentages • BL4Z3 • Hot Salad Water • I Saw You Dance • The Story in Your Eyes • Playing Hard to Get • The Night Begins to Shine • Lication • Labor Day • Classic Titans • Ones and Zeroes • Career Day • TV Knight 2 • Justice League's Next Top Talent Idol Star • The Academy • Costume Contest • Throne of Bones • Demon Prom • Thanksgetting • The Self-Indulgent 200th Episode Spectacular! • BBCYFSHIPBDAY • Beast Girl • Flashback • Bro-Pocalypse • Mo' Money Mo' Problems • TV Knight 3
Season 5: June 25, 2018 - April 4, 2020
The Scoop! • Chicken in the Cradle • Kabooms • Tower Renovation • My Name is Jose • The Power of Shrimps • Monster Squad • Real Orangins • Quantum Fun • The Fight • The Groover • Justice League's Next Top Talent Idol Star: Second Greatest Team Edition • How's this for a Special? Spaaaace • BBRBDAY • Slapping Butts and Celebrating for No Reason • Nostalgia is Not a Substitute for an Actual Story • Business Ethics Wink Wink • Genie President • Tall Titan Tales • I Used to Be a Peoples • The Metric System vs Freedom • The Chaff • Them Soviet Boys • Little Elvis • Booty Eggs • TV Knight 4 • Lil' Dimples • Don't Be an Icarus • Stockton, CA! • What's Opera Titans • Forest Pirates • The Bergerac • Snot and Tears • Campfire! • What We Learned at Camp • Communicate Openly • Royal Jelly • Strength of a Grown Man • Had to Be There • Girls Night In • The Great Disaster • The Viewers Decide
Season 6: October 4, 2019 - present
Butt Atoms • TV Knight 5 • Witches Brew • That's What's Up! • Crab Shenanigans • Brobots • Brain Flip • Beast Boy on a Shelf • Christmas Crusaders • We're Off to Get Awards • Bat Scouts • Walk Away • Record Book • Magic Man • Titans Go Casual • Rain on Your Wedding Day • Egg Hunt • Justice League's Next Top Talent Idol Star: Justice League Edition • Mission to Find the Lost Stems • Drums • Guitar • Bass • You're The One
Top of the Titans: April 27, 2018 - July 20, 2018
Raddest Songs • Best Love Songs • Beast Boy & Cyborg Songs • Dance Party • Best Rivals