In the crazy world of Teen Titans Go!, inanimate food has occasionally become sentient... take Vegan Cheesesteak for example, a talking sandwich who makes friends with the Teen Titans. He's even got robotic legs and a cloning ability. Now that's a good sandwich!
So far, Vegan Cheesesteak has only appeared in Season 5's "The Great Disaster."
History
During the Titans' meal at Jump City Cheese Steaks, Raven magically produced a living cheese steak for Beast Boy—a vegan one of course. Beastie instantly befriended the cuisine, but there was a problem: the sandwich couldn't go hang out with him because he had no legs. So Cyborg implanted a nanobot into Vegan Cheesesteak, giving the food some robotic appendages.
After leaving the restaurant, the Titans and the sandwich ran into Hawkman pushing Robin in a stroller (Robin was a bit cuckoo at this time, believing Hawkman to be his mom). When the insane hero started pecking at Cyborg, Vegan Cheesesteak bravely jumped at Robin, knocking him away AND curing him of delusion. The sandwich was badly hurt after this bold act, but the cybernetic implants luckily gave him a replication ability. After many years though, Vegan Cheeseteak's duplication got so out of control that it caused a "great disaster," with uncountable cheese steaks populating the earth...
Physical Appearance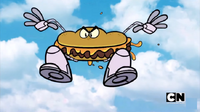 Inspiration for Vegan Cheesesteak seems to be drawn from a classic Philadelphia Cheesesteak—a split loaf of wheat bread with ground up vegan... something... and cheese in the middle. Raven's sorcery has bestowed unnatural eyes to the cuisine, but the mouth is formed by just the bread opening. When Cyborg gifts Vegan Cheesesteak with a nanobot, metallic white arms and legs sprout from his bread, the legs slightly resembling Cyborg's.
Powers and Abilities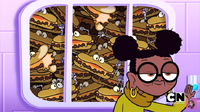 Sentience: Most sandwiches aren't self aware, so this counts as a power.
Cybernetic Limbs: As stated before, Vegan Cheesesteak is mobile thanks to the nanobot.
Replication: Unassumingly unlimited numbers of this cheese steak can be created.
Appearances
Trivia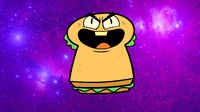 In the Season 1 episode "Sandwich Thief", there was also a talking sandwich, Perfect Sandwich.

Interestingly, at one point Cyborg mistakenly refers to Vegan Sandwich as "the perfect sandwich."

This is another character voiced by Scott Menville (Robin's voice actor). The accent that he does for Vegan Cheesesteak sounds extremely similar to Birdarang, another Scott-voiced character.
Gallery
References
Community content is available under
CC-BY-SA
unless otherwise noted.