"Vegetables" is the sixteenth episode of the second season of Teen Titans Go!, and the sixty-eighth overall episode of the series.
Synopsis
After the Titans eat too much meat, Beast Boy tells them the wonders of being a vegetarian, but the other Titans take being a vegetarian too far.
Plot
The episode starts in the Titans Tower lobby once again. Robin is trying to fix one of his gadgets, Beast Boy is playing a game, Starfire is tickling Silkie, and Raven is reading as usual. Beast Boy wonders what time it is, to which Cyborg responds "It's Meat Party Time!" Cyborg and the Titans go outside, and Cyborg starts grilling up some meat. Robin asks for a steak, to which Cyborg tells him he's got steak for days and ends up giving him a whole plate. That totals 11 for Robin! Raven asks for some sausage, to which he chucks one at her face, but she is still thankful. Starfire wants a "burger of the turkey," so Cyborg stuffs one in her mouth. Beast Boy joins the party, and he tells Cyborg to grill up his plate of veggies. Cyborg refuses, thinking he's crazy for even asking. Robin wonders why Beast Boy keeps eating vegetables, so he explains that he's a vegetarian and he eats them everyday. Cyborg tries to tempt him with a hot dog, saying it looks like a carrot, but Beast Boy doesn't comply. Raven tells him he's missing out, with Starfire about to comment on her love for meat before Cyborg interrupts her and yells at her to keep eating meat. Beast Boy vouches for vegetables, but they just ignore him and continue to scarf down their meat. While Robin is chomping on a burger, an alarm goes off in his mouth. Somehow, his communicator wound up in his food, but anyways, it reports that Cinderblock is attacking Jump City.
Meanwhile in the city, Cinderblock is destroying a vehicle when the Titans show up to stop him. Cyborg is about to attack him, but he falls short; he has a meat gut and is temporarily immobilized as well as the other Titans (Raven's even got a meat person in her belly). However, Beast Boy happens to be in prime condition. In jaguar form, he runs at the villain and then pounces at him. The other Titans are amazed at his skills, and with a series of well-placed punches, Cinderblock collapses to the ground, making a nice little brick house at the same time. Somehow Beast Boy was in it, and when he exits, he's got a big smirk on his face. They are amazed by his agility, and he says he owes it to veggies.
After the battle, Beast Boy gathers the Titans for a conference on the benefit of vegetables. He explains his chart as best as he can, but it doesn't make much sense to the other Titans. They ask what types of carrots are on the pictures, but they're just rutabaga, lettuce, and potatoes, due to thinking all vegetables are carrots. Beast Boy explains that they aren't, and this confuses Cyborg so much. Robin states that he just thought vegetables were gross, tasteless, rabbit food. Raven adds that she isn't a rabbit. So Beast Boy puts them to the test...
In the kitchen, he has carrot soup, broccoli, falafel, hummus, and spinach set up for Robin, Starfire, Raven, and Cyborg, respectively. They have a little trouble taking a bite, but once they do, they LOVE vegetables. They get psyched up for veggies (they even claim the moon for them). During their eating-fest, Robin's crime alert sounds in his mouth once again (why is it there?!!) With broccoli stuck in his teeth, he orders the Titans to the crime scene.
A trio of thugs have just stolen cash from a bank, but the Titans show up, this time well-energized for the takedown. Cyborg defeats a thug in Popeye style (he's even got the tattoo and laugh down) with the help of spinach. Robin uses his super sight, thanks to carrots, to trip a robber with a Birdarang. Starfire's energy makes her super hyper, and she sends a burglar flying away. Skidding to a stop at Raven's feet, she remarks that she's never been happier and proceeds to smash his face with her giant fist. Beast Boy congratulates them, and then he tells them to look at their stomachs. They all find that they have abs now. Then he says to look at their sweat, which is now honey. They love the feeling, so the Titans make an oath to eat vegetables and vegetables alone.
Three weeks later, Beast Boy is coming into the kitchen and is horrified; the other Titans have turned GREEN!! They offer him a veggie-themed breakfast (scrambled vegetables, toasted veggies, and veggies in a bowl [but not milk, just vegetables]). He warns them that they have to eat in moderation because this isn't good for them. Beast Boy then goes to get an apple from the fridge. However, the zombie-like Titans think it's meat, but Beast Boy doesn't think so. They are displeased with Beast Boy's disloyal actions, so Raven and Robin sack him up, ready to take him to their new master...
Beast Boy awakens chained to the floor and in the middle of a dimly lit forest temple. The Titans, now shrouded in hoods (even though Raven always is, anyway). They are chanting "Vegetables" ominously, and Beast Boy wonders what's going on. The Titans start hinting about their master, saying that he has been calling them since their first vegetable and that he awaits them. They start to summon him, and out of the ground rises a gigantic carrot, Vegetor. The majestic vegetable says he will do away with meat once and for all, starting with Beast Boy! He levitates a giant rock (eggplant shaped) down to Beast Boy and sends it down to crush him. But before that, he breaks free from his chains and stops the huge stone in gorilla form. Beast Boy begs for mercy, but the Titans will not forgive him for partaking in the "meat apple". But then, he has a great idea. He asks Cyborg what time it is. Cyborg didn't bring a watch unfortunately, but Beast Boy questions him again. His memory finally comes back: it's Meat Party Time!
Cyborg starts blasting meatballs all over the place, and the other Titans are consciously revived and return to their normal skin tone once they eat them. The end is near for Beast Boy, but his death is delayed when Vegetor is distracted by a great smell. It's coming from Robin's BBQ ribs. At first, he is reluctant to try some meat, because he says his body is a temple or something. But he decides one bite won't hurt. But to him, an enormous carrot, one bite is equivalent to one slice of ham. He instantly has visions of growing up with meat, t-bone steak pushing him on a swing, dancing with a chicken leg in the fields, and even singing with a hot dog. Raven convinces him to try a sausage, which he loves more than anything. Vegetor and the Teen Titans (besides Beast Boy) go on a meat-eating rampage, followed by Meat-Skee Time. They end up eating tremendous amounts of meat, which leads to an unfortunate meat gut. Vegetor doesn't feel so good, and Beast Boy starts to shout that they going to leave now before it's too late. He can't even finish his sentence as Vegetor explodes all over the place. Beast Boy is disgusted by all the meat everywhere, and Raven complains about the vegetables. So Cyborg decides to make a great joke out of it, saying that's what you call a balanced diet. Everybody laughs for a while, but Raven's meat person inside her belly out-laughs all of them, ending the episode.
Characters
Trivia
This episode aired one year after "Lazy Sunday" , and 10 years after the original series episode "Spellbound".
Beast Boy breaks the fourth wall by looking towards the viewer and giving a thumbs up to the screen.

Also, when he asks what time it is, Cyborg replies "Six-ish?," which was about the time that the episode was aired.

Starfire's triangle busting out of her stomach may be her having a stomach spasm. (Or it might have exploded)
This episode starts exactly as "Meatball Party" did.
One of the thugs also appeared in "I See You."
Cyborg is the only Titan to trigger back his own memory by shouting "It's meat party time!".
The plot of this episode is similar to the Wiener Club episode from Unikitty.
Continuity
Various elements from the episode "Meatball Party" have been referenced in this episode.

Cyborg's meatball cannon makes a return.
The "Meat Party Time" backdrop running gag is near identical to the one shown in the former episode.
The same music plays during both of the episode's beginnings.
References
Beast Boy asks "What time is it?" This is a reference to another Cartoon Network TV show Adventure Time.
Cyborg, while fighting the burglars, clearly references Popeye the Sailor right after he eats some spinach. (anchor symbol lit up in arm, short signature laugh, appearance).
Starfire refers to her nine stomachs, which were first mentioned in the original series episode "Mother Mae-Eye."
When Raven insists she isn't a rabbit, it's a reference to the original series episode, Bunny Raven... or How to Make A Titananimal Disappear, when she is turned into a rabbit by Mumbo Jumbo.
Beast Boy is seen playing a Nintendo DS/DSi/3DS look-alike in the beginning of the episode.
Errors
When Cyborg gives the burger to Starfire, there is lettuce and a tomato seen in the burger, which are vegetables.
When Starfire's belly swells due to meat, she is shown to have a stomach other than 9.

But Starfire said only one of her stomachs was fighting with meat, while the other stomachs were ok. This may mean that only one of her 9 stomachs is bloated, and that's why not all of Starfire's stomachs were highlighted.

Despite condemning Beast Boy for eating fruit, the Titans have been seen eating fruits such as squashes, eggplants and peppers in previous episodes.
When summoning Vegetor, the hands of Starfire and Raven are seen in their normal colors.
On the vegetable chart it shows a bag of potatoes, but potatoes are not vegetables they are a type of grain
Running Gags
Raven having a "meat person" in her belly.
Everybody (Except Beast Boy) having meat guts.
The Titans eating meat. And vegetables.
Transcript
The transcript for "Vegetables" can be found here.
Gallery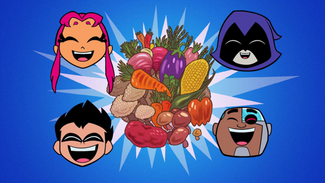 The image gallery for Vegetables may be viewed here.