"Waffles" is the thirty-ninth episode of the first season of Teen Titans Go!, and the thirty-ninth overall episode of the series.
Synopsis
Cyborg and Beast Boy show their love for waffles by making it the only word they say, much to the annoyance of the other Titans.
Plot
Cyborg and Beast Boy are playing a game of "who can last the longest only saying "waffles"". Starfire wants to join, Raven calls the game stupid, and Robin thinks it's extremely annoying to the point of being triggered into pointing his grappling gun at the two. When Star questions why the game is so great to calm Robin down, Beast Boy and Cyborg slip into an old-timey song number, "Waffles", which only has that one word sung repeatedly through the lyrics.
The song is so annoying that Raven asks to change the subject. Robin asks the team what breakfast they feel like having. Everyone seems to agree on waffles.
Robin proceeds to make waffles, following the recipe on the screen that reads: two eggs, flour, mix. As Robin prepares the waffles, Beast Boy starts to flirt with Raven. Beast Boy only said "waffles" as he looks at her dreamily, Raven begins to blush and looked away right after he said that (no one actually knows what Beast Boy meant, but apparently she did). When Robin finished preparing the waffles, he presents them to Beast Boy and Cyborg, they flip the plate, throwing waffles at his face. Cyborg uses a picture to explain that Beast Boy and him meant "sandwich" as they continue to say waffle over and over to sound like they are explaining with words. Robin intensifies again and holds his grappling gun threateningly pointed at the two....
Later that night, Robin discovers that the Titans Tower distress signal is going off. The call alerts the team that there is trouble at the docks.
They rush to the elevator, but Robin stops Beast Boy and Cyborg, telling them to stay. Raven and Starfire agree, and Beast Boy and Cyborg continue having fun in the tower.
The three Titans arrive in the warehouse and Brother Blood reveals himself. Shocked, Robin, Starfire and Raven watch as blue lasers surround them, forming an indestructible cage. The alarm was a trap, and Brother Blood gloats, saying he has thought of "every contingency." It proved true.
Raven can only make portals inside the cage, Starfire's starbolts easily bounce off the cage bars, and every time Robin touches the lasers, he gets electrocuted.
Brother Blood explains his plans. He needs control of Titans Tower's weapon arsenal, but Robin tells him he won't succeed because of the tight security system. No one can access it without each Titan's voice authorization.
In light of this, Brother Blood hangs a mic in the cage and attempts hypnotizing the three with his mind control powers.
When that doesn't work, he brings out a small looking robot called Pain Bot. The titans are not intimidated by it, but when Pain Bot unveils its hundreds of different torture devices, the Titans immediately give Brother Blood their voice authorizations.
The three agree it isn't worth getting tortured over, especially because Blood needs to get Cyborg and Beast Boy to say the authorization, too. Confident that it is SO possible, Brother Blood leaves to lure the other two titans. Robin is confident that Brother Blood is no match for Beast Boy and Cyborg's commitment to tomfoolery, and though Starfire and Raven hesitantly agree, Robin mostly shows relief that they avoided torture.
Back in the Tower, Beast Boy and Cyborg are chilling to karaoke until Brother Blood's face shows up on the TV monitor. He maniacally reveals that he has captured their teammates and where they are located. Beast Boy and Cyborg are appalled and angry, pointing at him to indicate they were coming for him, but Brother Blood is thrown off by them saying waffles every time they speak. However he brushes if off, summarizing his message again and leaves the transmission.
Beast Boy and Cyborg arrive at the crime scene, the other three Titans caged but in sight. Cyborg shoots at Blood but he easily dodges the blasts and the two are captured by Pain Bot. They are strapped to a torture table and a microphone is hung above them, but the two keep speaking with only the word waffle as they spout their banter. Brother Blood proceeds to use Pain Bot to torture them until they say the authorization. Beast Boy and Cyborg scream in agony, but even their cries of pain are 'waffles'. The three titans in the cage flinch at the pain the two are going through, and gets Robin has an idea. Raven guesses it: Waffles.
A music montage starts. Robin, Raven, and Starfire sing a pop rock auto tune version of Waffles Song. Brother Blood yells at them to stop, but they don't. It's too much for him and he jumps on Pain Bot and rides away, through the wall, to escape the awful song.
The three titans celebrate, dancing and singing the Waffle song again. Beast Boy and Cyborg interrupt and tell them to stop, with the right words this time. The three titans widen their eyes in surprise, asking the two why they stopped playing. Beast Boy states in a matter of fact manner that the three ruined the game for them, and Cyborg agrees, all while being in terrible shape from the torture. Beast Boy is skeletal the neck down and Cyborg's eye is cracked, his head falling off. Raven then asks how are they going to get out of the cage, and Robin simply responds, "waffles."
Characters
Song
Trivia
Though he made a cameo appearance in "Legs", this is Brother Blood's first, speaking appearance, with John DiMaggio reprising his role as Brother Blood.
This is the seventh episode to be named after a food, and the second episode to have a title based on breakfast foods.
In this episode, Beast Boy and Cyborg are the bravest of the Titans, as they would not give up their codes to Brother Blood even when being repeatedly tortured. Whereas the others gave up their codes at the first threat of pain. Either that or it shows their dedication to their ridiculous games.
You could argue that Raven is seen without her hood in this episode, because when she, Robin, and Starfire were singing about waffles, her face on the waffle is her face without her hood (her eye outline and gem), making it the fifth time overall.
During Robin, Starfire, and Raven's version of the waffles song, their characters as they appear in the show's theme song (season 1) dance around Brother Blood's head.
Throughout the duration of the episode, the word "waffles" is said 295 times.
One could argue that Beast Boy could have easily escaped Brother Blood's trap by simply transforming into a dinosaur or any large animal to break the cuffs on his hands and feet, or, conversely, a limbless or very small animal, like a snake, mouse, or insect, that could slip out of the restraints easily. However, Beast Boy cannot canonically break confinements with transformation; and even if he could, he still could've been tortured by the pain bot uncuffed, or recaptured if he did, and being tiny and defenseless might put him at even more of a disadvantage.
This episode is similar to the Dexter's Laboratory episode "The Big Cheese."
According to Khary Payton in "Creative Geniuses", this episode was inspired by the cast eating breakfast.
Continuity
This is the second episode in which Beast Boy does not use any of his animal forms. The first being "The Left Leg".
The Cyborg and Beast Boy icons in the song Waffles are the same ones shown in "Colors of Raven" on Cyborg's tracker.
This is the fourth episode where Beast Boy plays a stringed musical instrument during a musical number or montage.
References
On one of the Titan's posters, there is a picture of Batman.
The front cover headline on the newspaper Robin was reading said "BATMOBILE LOST A WHEEL!" and "JOKER GOT AWAY", which is an allusion to the well-known Christmas carol parody "Jingle Bells, Batman Smells."

On the same newspaper there is a "butler for hire" ad with a picture of Batman's butler Alfred Pennyworth.

The New-Age music used right before the waffles song is the same music used in the Raving Rabbids Travel in Time video game level "Holly-Bollywood".
During a point in both versions of the Waffles song, the titans' heads are shown with a similar design to Pac-Man.
In the "A little waffle later..." scene, instrumental music that sounds like KC and the Sunshine Band's "Boogie Shoes" could be heard. The song would later be used as the base of the Pee-Pee Dance song.
The song Beast Boy and Cyborg sing karaoke to is a parody of the 1997 hit song "My Heart will Go On" by Céline Dion, which is also known as the love theme to Titanic.
Errors
The Titans said that Brother Blood's mind control wouldn't work on them, but they were able to fall under Mother Mae-Eye's control in "Pie Bros".
In the Netflix version, the captions for Pain Bot read "Oh, I know this pain."   
Running Gags
Beast Boy and Cyborg chanting "Waffles".
Transcript
The transcript for "Waffles" can be found here.
Gallery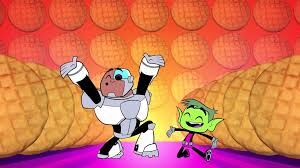 The image gallery for Waffles may be viewed here.
v - e - d Episode Guide
Season 1: April 23, 2013 - June 5, 2014
Legendary Sandwich • Pie Bros • Driver's Ed • Dog Hand • Double Trouble • The Date • Dude Relax • Laundry Day • Ghostboy • La Larva de Amor • Hey Pizza! • Gorilla • Girl's Night Out • You're Fired! • Super Robin • Tower Power • Parasite • Starliar • Meatball Party • Staff Meeting • Terra-ized • Artful Dodgers • Burger vs. Burrito • Matched • Colors of Raven • The Left Leg • Books • Lazy Sunday • Starfire the Terrible • Power Moves • Staring at the Future • No Power • Sidekick • Caged Tiger • Second Christmas • Nose Mouth • Legs • Breakfast Cheese • Waffles • Be Mine • Opposites • Birds • Brain Food • In and Out • Little Buddies • Missing • Uncle Jokes • Más y Menos • Dreams • Grandma Voice • Real Magic • Puppets, Whaaaaat?

Season 2: June 12, 2014 - July 30, 2015
Mr Butt • Man Person • Pirates • Money Grandma • I See You • Brian • Nature • Salty Codgers • Knowledge • Slumber Party • Love Monsters • Baby Hands • Caramel Apples • Sandwich Thief • Friendship • Vegetables • The Mask • Serious Business • Halloween • Boys vs Girls • Body Adventure • Road Trip • Thanksgiving • The Best Robin • Mouth Hole • Hot Garbage • Robin Backwards • Crazy Day • Smile Bones • Real Boy Adventures • Hose Water • Let's Get Serious • Tamaranian Vacation • Rocks and Water • Multiple Trick Pony • Truth, Justice and What? • Two Bumble Bees and a Wasp • Oil Drums • Video Game References • Cool School • Kicking a Ball and Pretending to Be Hurt • Head Fruit • Yearbook Madness • Beast Man • Operation Tin Man • Nean • Campfire Stories • And the Award for Sound Design Goes to Rob • The HIVE Five • The Return of Slade • More of the Same • Some of Their Parts

Season 3: July 31, 2015 - October 13, 2016
Cat's Fancy • Leg Day • Dignity of Teeth • Croissant • Spice Game • I'm the Sauce • Hey You, Don't Forget about Me in Your Memory • Accept the Next Proposition You Hear • The Fourth Wall • 40%, 40%, 20% • Grube's Fairytales • A Farce • Scary Figure Dance • Animals, It's Just a Word! • BBBDAY! • Black Friday • Two Parter • The True Meaning of Christmas • Squash & Stretch • Garage Sale • Secret Garden • The Cruel Giggling Ghoul • How 'Bout Some Effort • Pyramid Scheme • Beast Boy's St. Patrick's Day Luck, and It's Bad • The Teen Titans Go Easter Holiday Classic • Batman v Teen Titans: Dark Injustice • Bottle Episode • Finally a Lesson • Arms Race with Legs • Obinray • Wally T • Rad Dudes with Bad Tudes • Operation Dude Rescue • History Lesson • The Art of Ninjutsu • Think About Your Future • TTG v PPG • Coconut Cream Pie • Pure Protein • Open Door Policy • Crazy Desire Island • The Titans Show • Booty Scooty • Who's Laughing Now • Oregon Trail • Snuggle Time • Oh Yeah! • Riding the Dragon • The Overbite • The Cape

Season 4: October 20, 2016 - June 25, 2018
Shrimps and Prime Rib • Halloween v Christmas • Booby Trap House • Fish Water • TV Knight • Teen Titans Save Christmas • BBSFBDAY! • The Streak • The Inner Beauty of a Cactus • Movie Night • BBRAE • Permanent Record • Titan Saving Time • The Gold Standard • Master Detective • Easter Creeps • Hand Zombie • Employee of the Month: Redux • The Avogodo • Orangins • Jinxed • Brain Percentages • BL4Z3 • Hot Salad Water • I Saw You Dance • The Story in Your Eyes • Playing Hard to Get • The Night Begins to Shine • Lication • Labor Day • Classic Titans • Ones and Zeroes • Career Day • TV Knight 2 • Justice League's Next Top Talent Idol Star • The Academy • Costume Contest • Throne of Bones • Demon Prom • Thanksgetting • The Self-Indulgent 200th Episode Spectacular! • BBCYFSHIPBDAY • Beast Girl • Flashback • Bro-Pocalypse • Mo' Money Mo' Problems • TV Knight 3
Season 5: June 25, 2018 - April 4, 2020
The Scoop! • Chicken in the Cradle • Kabooms • Tower Renovation • My Name is Jose • The Power of Shrimps • Monster Squad • Real Orangins • Quantum Fun • The Fight • The Groover • Justice League's Next Top Talent Idol Star: Second Greatest Team Edition • How's this for a Special? Spaaaace • BBRBDAY • Slapping Butts and Celebrating for No Reason • Nostalgia is Not a Substitute for an Actual Story • Business Ethics Wink Wink • Genie President • Tall Titan Tales • I Used to Be a Peoples • The Metric System vs Freedom • The Chaff • Them Soviet Boys • Little Elvis • Booty Eggs • TV Knight 4 • Lil' Dimples • Don't Be an Icarus • Stockton, CA! • What's Opera Titans • Forest Pirates • The Bergerac • Snot and Tears • Campfire! • What We Learned at Camp • Communicate Openly • Royal Jelly • Strength of a Grown Man • Had to Be There • Girls Night In • The Great Disaster • The Viewers Decide
Season 6: October 4, 2019 - present
Butt Atoms • TV Knight 5 • Witches Brew • That's What's Up! • Crab Shenanigans • Brobots • Brain Flip • Beast Boy on a Shelf • Christmas Crusaders • We're Off to Get Awards • Bat Scouts • Walk Away • Record Book • Magic Man • Titans Go Casual • Rain on Your Wedding Day • Egg Hunt • Justice League's Next Top Talent Idol Star: Justice League Edition • Mission to Find the Lost Stems • Drums • Guitar • Bass • You're The One
Top of the Titans: April 27, 2018 - July 20, 2018
Raddest Songs • Best Love Songs • Beast Boy & Cyborg Songs • Dance Party • Best Rivals