"Wally T" is the thirty-third episode of the third season of Teen Titans Go!, and the one-hundred-thirty-seventh overall episode of the series.
Summary
The gang meets their biggest fan — a child named Wally T. Raven says that the mere presence and the intense admiration from a single fan multiplies and augments their strength and abilities greatly.
Plot
As the episode starts, Cyborg, Beast Boy, and an unknown random boy are sitting on the couch. Beast Boy and the boy are playing video games, while Cyborg is relaxing. Robin suddenly comes in and greets Cyborg and Beast Boy, and then notices the boy sitting between them. Robin asks who he is and looks at him in suspicion, and the two refer to the boy as 'Wally T', even though his real name is William Walter Thompson.
As Robin finishes hearing the aggravating and annoying 'Wally T' pronunciation songs coming from the two, he asks them why he was here. Beast Boy and Cyborg laugh that Robin does not know about Wally T, and the two say that he's a number one fan of the Teen Titans. Robin opposes the thought and states that everyone calls the Teen Titans now as an abomination. The two highly agree, with Beast Boy saying that Wally T is the only person who does not think of them as a complete failure.
Robin still disagrees that Wally T is a true fan, and asks him if he likes the Teen Titans! (Robin shows a picture of the Teen Titans Go! characters) or the Teen...Titans (Robin shows a picture of the original Teen Titans characters). Wally T points to the original Teen Titans poster, and makes Robin's feelings hurt. Cyborg states that Wally T's decision is agreeable, and says that the animation quality has gone down. Robin says that as long as the Teen Titans aren't garbage, then he won't care about anything else that happens to them.
With that idea however, Robin goes to Wally T and asks him if he doesn't consider the Teen Titans garbage, and Wally T gives a shrug. Robin smiles happily and starts to piggy-back Wally T as the four headed to the kitchen.
Before entering, Raven and Starfire come out of the kitchen, and Raven asks who the boy Robin is carrying was. The three tell her that it was Wally T, a huge fan of Teen Titans Go! After telling them, Starfire interrupts saying that 'Wally T is no boy', and Raven agrees with a comment of 'he's all man.' The two start making cat noises at Wally T and the fan starts to take a liking towards Raven's. The two start to look at Starfire as she makes dinosaur noises instead of seductive, completely satisfactory noises.
Robin pushes the two apart, and exclaims that Wally T was really the number one fan of them, and Raven states that the strong belief of fans "gives them their strength", which makes Robin highly doubt that statement. Raven tells the team that true fans give regular heroes so much power and strength. Robin, doubting still along with Cyborg, suddenly gets surprised as Raven suddenly yells 'catch' and manages to teleport a police car above him, which was intended to squish him; however, Robin carries it with a bright yellow aura around him, greatly increasing his natural abilities to superhuman levels tenfold.
Both Robin and Starfire get impressed by the power of Wally T, with Raven adding 'Oh yes, and being this close to him is making us even stronger!' Raven also mentions 'Look how strong he's making me now!' and cat growls at Wally T, again, with Robin pushing him and Raven apart.
After the incident, Beast Boy suggests to the Titans that they should all respect Wally T as a king because of the strength he gives to them all. The Titans agree, and Robin starts a 'Titans Fan-tour' with Wally T tagging along them.
Instead of Wally T actually going to look at the awesome and cool behind-the-scenes stuff, the Titans show him the...
BATHROOM! Amazing, is it not?
The Titans show Wally T the bathroom utilities, however, Raven adds on with a 'We always run out of toilet paper!' comment. Robin tells the Titans that they waste the toilet paper by making 'mummy wraps', and he looks at them all in despair. Beast Boy teaches Wally T how to make mummy wraps, which annoys Robin even more. Robin says that from now on, they all have to use two squares from a toilet paper. Before moving on to the next 'Titans fan-tour' room, Robin's communicator beeps on and it says that Gizmo is attacking Jump City with his robot army! Scary!
The Titans and Wally T, head to Jump City, and starts to face off the evil robot army! Now with Wally T, the Titans are more powerful than ever! The five pass each other the fan, and they all show off each of their cool and new superpowers!
After battling, Beast Boy states that they should get more fans, because he wants them all to get stronger. Robin agrees with the idea, also stating that to get more fans, the 'Focus Testing' plan begins!
Going back to the Tower, Robin says that he will show Wally T numerous images and clips of them from previous episodes, and will rate each of them: either 'hate' or 'love.' The Titans leave the room with the clips playing on a T.V, and Wally T mostly like Beast Boy and Cyborg saying "Waffles", Starfire's (especially when she keeps on using "the"), and especially Raven's clips (mainly because of her sourpuss attitude, ha ha...), however, he hates Robin's clips (apart from his butt jokes though).
After the series of clips, Robin is disgusted by the results of the ratings, with Raven saying that if they pander shamelessly, it could have disastrous consequences! Yikes!
But Beast Boy says they need more fans to get more fan power. Robin orders the Titans to recreate Wally T's favorite moments, but Raven reports that Wally T left. (So sad.) Robin checks the Fan Tracker to see how many new friends they acquired, but the Titans are shocked to see that... uh-oh! It has lowered to zero! Raven says that while trying to get new fans, they have lost the only one they had.
Then Robin's communicator reports that Gizmo has returned with another robot army and the Titans travel to confront him on the streets of Jump City. Robin tells Gizmo to give up, but he aims his robot's weapons at them. The Titans are unable to summon their powers as they lost their strength when Wally T left them and are crushed by Gizmo's robot. However, Wally T arrives, providing the Titans with enough strength to emerge from the robot. Raven claims that he returned because a true fan will stick to them no matter how terrible they become out of a sense of obligation and duty. Wally T agrees with her and gives his "fan strength" to the Titans, allowing them to harness and defeat Gizmo and his army. The Titans thank him for helping them and they sing him a song to thank him for being their fan.
Characters
Song
Trivia
This episode was created for the interest of a child from the Make-a-Wish-Foundation named William Walter Thompson, who loves the show and voiced himself in the episode.

However, it was also been debated whether or not they used William Walter Thompson as a way to shield themselves from criticism, which is now proven to be untrue.
Some people claimed the episode as offensive, as they considered it the worst way to respond to critics, and downright disrespectful to the child involved. Others pointed out that changing the voice acting of your "only fan" with another voice actor is wrong (in this case, Tara Strong got credited rather than Wally T himself). In addition, people said that Starfire and Raven getting excited over Wally T made them feel uncomfortable.

However, Wally told them he wanted to voice-act with Tara Strong, due to being a huge fan of her voices in Teen Titans and My Little Pony: Friendship is Magic (which was why he chose the 2003 version over Go!). The crew also thought it was alright for Wally if Raven had a crush on him. Unfortunately, Cartoon Network refused to air the episode since Wally isn't a member of the crew, even though he DID record his lines, thus Tara had to ADR (automate) his lines at the last minute after this episode was delivered to Cartoon Network.

Robin's R-Cycle makes its first appearance in the third season.
Music from "Squash & Stretch" is reused.
Continuity
References
Wally T's cartoon appearance is similar to Sherman from the 2014 animated film Mr. Peabody and Sherman.
All the talk about how the Titans have only one fan could be the writers ribbing the haters again.
Batman, The Flash, and Wonder Woman appear as silhouettes when Raven explains that superheroes get their powers from their fans.
An eye catch with Wally T references classic Looney Tunes cartoon opening sequences.
When Beast Boy gets stronger from Wally T, Beast Boy turns into a dinosaur and destroys Gizmo's Robot Army. Afterwards a banner flies down reading "Wally T". This is a reference to Jurassic Park; when the T-Rex kills the Raptors in the museum, a banner flies down reading "When Dinosaurs Ruled The Earth".
The chair Wally T sits in may be a reference to the talent competition series The Voice.
Errors
Tara Strong is credited for voicing Wally T in the episode, although she stated that he voiced himself.
When the Titans show Wally T the clips, Robin says the second clip was about Starfire saying "the" before everything, but it is actually Cyborg dancing while in his Grandma Voice persona.
Running Gags
Raven and Starfire flirtatiously making cat noises at Wally T.
The Titans chanting "Wally T!"
The Titans trying to get more fans.
Transcript
The transcript for "Wally T" can be found here.
Gallery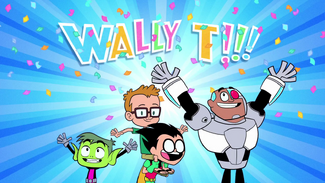 The image gallery for Wally T may be viewed here.