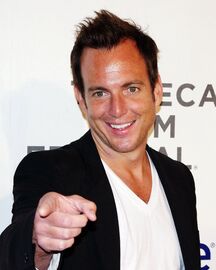 William Emerson "Will" Arnett (born on May 4, 1970) is an American-Canadian actor who voices Slade in Teen Titans Go! To the Movies.
He is best known for his role as George Oscar "Gob" Bluth II in the Fox/Netflix series Arrested Development (2003–2006, 2013, 2018) as well as his titular role as BoJack Horseman in the Netflix Original Series of the same name (2014-present) and as Nathan Miller in the CBS short-lived series The Millers (2013-2015).
He is currently known for his role of the voice of Surly from The Nut Job, Missing Link from Monsters vs. Aliens, and Batman in The Lego Movie and The Lego Batman Movie. He has appeared in films such as Blades of Glory (2007), Hot Rod (2007), Teenage Mutant Ninja Turtles (2014) and Show Dogs (2018).
Trivia