"Witches Brew" is the third episode of the sixth season of Teen Titans Go!, and the two-hundred-sixty-fourth overall episode of the series.
Summary
The Titans throw a Halloween party and invite the Justice League but the witches brew Robin creates has side effects.
Plot 
TBA
Characters 
Minor Characters
Trivia 
This is the sixth Halloween episode of the series. The previous ones were "Halloween", "Scary Figure Dance", "Halloween v Christmas", "Costume Contest" and "Monster Squad".
This is the third episode to use the crying sound of Baby Kate from Arthur. The first being "Teen Titans Save Christmas", and the second being "Collect Them All".
Robin got the recipe for the witches brew off of the internet.

The Witches Brew Robin makes is made up of Grape soda, a squeeze of lime and fizzy water.

Robin appears to be a skilled makeup artist in this episode.
Robin has no knowledge on scary monster, even though the brew worked.
Continuity 
References 
TBA
Errors 
Witches are female-exclusive. So among the five mutated Justice League members, only Wonder Woman is a witch, and the four others are wizards/warlocks.
Robin points out that Witches are insecure over their looks, but his assumption is a lie. Witches come in all shapes, sizes, and they are born with green skin or normal skin. They have warts anywhere on their faces. They are not insecure over their looks even though they spend time in insolation.
Running Gags 
Robin failing to be spooky.
Robin and the other Titans telling Raven that she doesn't know a thing about witches.

Which later turns out to be true.
Transcript
The transcript for "Witches Brew" can be viewed here.
Gallery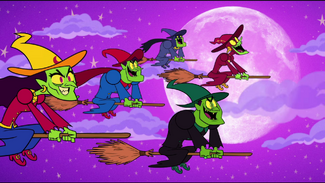 The image gallery for Witches Brew may be viewed here.